We ♥️ Slack
Slack at Veryfi
At Veryfi we are huge users of Slack for internal communication between our team in Australia and Silicon Valley. And naturally we have business expenses incurred on both continents. Sharing them in real-time eases the burden of having to do monthly reconciliation and chasing everyone up. We eat our own dog food as the saying goes using Veryfi for our own expense management. Having Veryfi integrated with Slack just simplifies expense reporting and transparency across the organization. Thanks Slack for providing us with an amazing tool!
Step by Step integration
1. Inside Veryfi app, navigate to "More > Connected Apps".
2. From the list, press "Slack" to begin the integration process.
3. Authorize access to your Slack team domain account by entering your team domain in the required field and hitting Sign In button.

 

4. Login using your Slack email address and password to start the Authorization process. Veryfi never stores your password. This is safe to do.

5. Authorize "Veryfi Expenses" (the iPhone app) with listed permissions by pressing the green button that says Authorize. These permissions are required to allow Veryfi services to send receipts to your Slack account even when you are not logged in to Slack on your desktop. Veryfi will send receipts and meta data to your Slack account each time you scan a receipt.

6. Select the Channel (folder) to send Veryfi expense receipts to. You can also specify whether you want this to be an automatic process (as shown below) or a manual process when you Tag your receipt with hashtag "slack". When you hit Next the process concludes and your Veryfi app is integrated with Slack. Congrats!
What to expect once connected to Slack
Based on the sync settings you selected during the integration process above, you will start seeing your receipts and their meta data inside Slack. Just as pictured below. If you do not see this or see something else, please contact us. We respond pretty fast and will get you back on the rails.
Slack mobile app – Slack mobile app can be downloaded from iTunes or Google Play store. The following screenshot is from an iPhone running the Slack app and Veryfi integration. Note how the receipts are showing up with their meta data inside the #receipts channel (folder).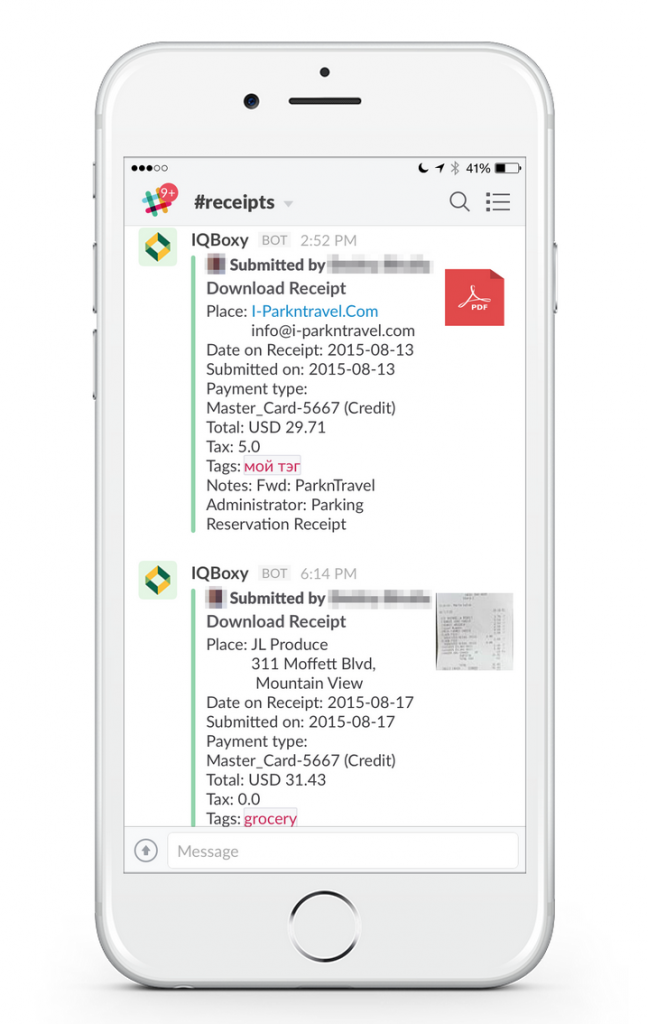 Slack desktop app – Just like the mobile app above, the desktop app is just as awesome and will show the same receipt data inside the #receipts folder (Channel as Slack calls it). You can use any channel you like to collect receipts.