Invoice OCR API
for Real-Time
Data Extraction
Veryfi OCR API extracts, categorizes and enriches all the detail from unstructured invoices, bills and consumer purchase receipts down to line-items (SKU-level purchase data) at scale; without the use of traditional limitations like templates or humans-in-the-loop.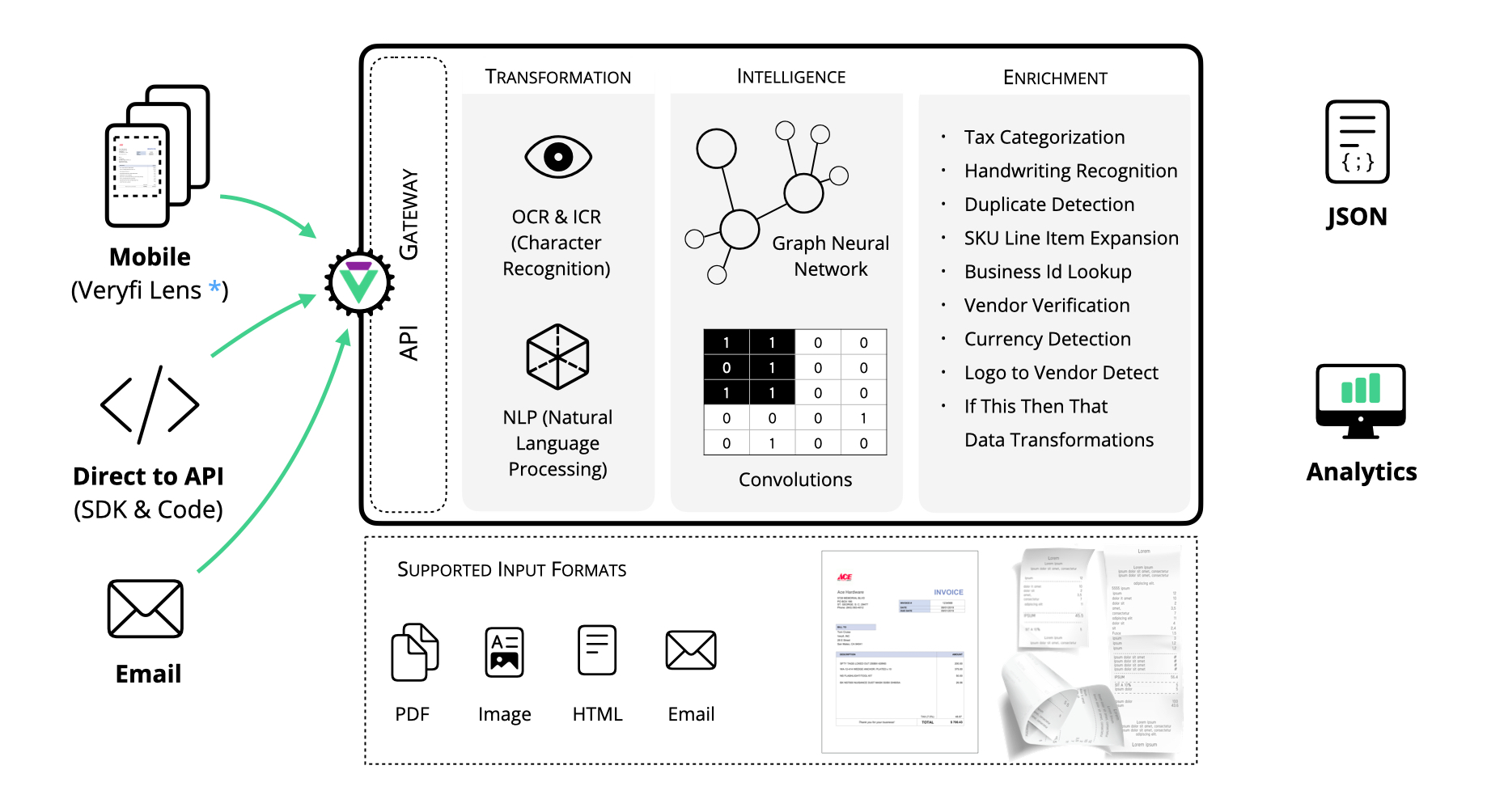 What is Invoice OCR
Invoice OCR is the process of extracting data fields from an invoice. When someone says "Invoice OCR" they usually refer to a process which consists of 3 Steps.
Step 1: OCR (optical character recognition) is the conversion of an Image or a PDF to text. Text inside the image file can be either typed font or handwritten.
Step 2: The process of extracting fields from the text. Some invoices can contain over 110+ different fields that need to be extracted. Also each product or service line on the invoice can be structured using 5-10 columns.
Step 3: Data Enrichment and Fraud Detection. Many Invoice OCR APIs simply skip this very important step, but not Veryfi. Veryfi APIs do all these 3 steps with accuracy rates surpassing humans.
Ready to Go out of the box!
Pre-Trained Machine Model · No Templates · 100% AI · Try It Now
Industries
Using Veryfi, your organization saves money, speeds up business processes, improves data quality, and reduces compliance risks.
Try our online demo below and see for yourself.
ERP Systems
Enterprise resource planning systems gain new intelligence freeing employees from data entry for expense management, accounts payable and reimbursements.
Construction Firms
Automate recording the costs of a manufacturing job for job costing and inventory tracking in a blink. Gain access to real-time data 247, not at the end of the month.
Audit
Audit the financial information of your clients entities with accuracy and speeds surpassing human labor multiple fold with ease.
"Implementing the API was straight-forward and based on the demo feature on your website I could tell that Veryfi's results are much more complete and accurate than those of other providers I tried."
Amsterdam, Netherlands, Business Owner
"Veryfi's Intelligent OCR (Optical character recognition) made scanning over 2,000 handwritten/printed receipts simple, convenient, and accurate data extraction effortlessly."
Jamie S., IT Consultant
"Veryfi was the complete package, providing API access, OCR and data extraction that's fast, accurate and cost-effective."
Amer Siddiq, Founder of
Landlord Vision
Why Veryfi
Level 3 Data Extraction
Line item level detail inc billing information enables Level 3 Data Processing reduces payment processor fees.
Instant Time to Value
Ready to Go out of the box —
No training or data required.
Data Privacy & Compliance
SOC2 Type 2, GDPR (EU), HIPAA (Healthcare), CCPA (California)
Fastest on the Market
Real-time. No waiting for invoice processing. Get instant results, build new modern tools to inspire your customers.
No Templates or Regex
Veryfi API is 100% Artificial Intelligence using Machine Models from millions of invoices to instantly recognize context in new & existing invoices.
Superior Intelligence at your Fingertips
RESTful JSON API
Veryfi API is a modern RESTful API so you can be up and running fast. Comes with detailed API docs, code samples and a strong DPA.
Line-Item SKU Extractions
SKU-level purchase level data is extracted at scale with ease from every invoice you sent to Veryfi API.
Veryfi Lens for Mobile
Veryfi Lens is a Custom Camera you can drop into your own iOS & Android app to give your app the intelligence of data extraction in minutes.
Image & Processing Corrections
Powerful Veryfi Algorothms automatically correct image distortions like pin/barrel & skews, detects blur & adjusts perspective issues, rotates images and even splits receipts from single page into multiple.
Data Extraction Intelligence
Veryfi AI is trained to extract out-of-the-box a wealth of fields from documents like invoices, bills and receipts.
Vendor / Merchant

Name (enriched)
Name (raw)
Address
Logo
Phone
Fax
Email
Latitude
Longitude
Website Url
VAT Number (Value-Added Tax)
ABN Number (Australian Business Number)
Store Number

Financials

Subtotal
Discount
Cashback
Shipping cost
Tax (VAT, GST)
Tip
Total
Rounding
Currency Code
Currency Exchange Rate
Insurance Amount

Meta

Document Type (receipt, bill, check & purchase order)
Document Title
Category
Package Weight (eg. kg/lb)
OCR Text
Dates

Invoice Date
Due Date
Order Date
Ship Date
Delivery Date
Start Date (or arrival in hotel folio)
End Date (or departure in hotel folio)

Identifiers

Account Number
Invoice Number
PO (Purchase Order) Number
Reference Number

Bill To

Name
Address
Phone Number
Email
VAT Number
ABN Number
Payment Terms
Business Registration Number

Ship To

Name
Address
Tracking Number
Ship Date
Delivery Date
Order Date
Incoterms
Insurance
Weight + List

Barcodes

QR
PDF417
EAN
UPC
Code128
Code39
I25
Line-Items

Date
SKU (Stock keeping unit)
Section
Description
Quantity
Unit of Measure
Price
Tax
Tax Rate
Discount
Discount Rate
Total
Type (food, product, alcohol,..)
Weight (eg. kg/lb)
Start/End Date
HSN (Harmonized System Code/Number)

Tax Lines Breakdown

Tax name
Tax rate %
Tax total
Tax base

Bank Information

Bank name
Routing number
Account number
IBAN (International Bank Account Number)
SWIFT / BIC

Payment Method

Card Type (eg. visa, mastercard etc)
Card Number
We spent 18 months looking worldwide for a real-time data extraction solution which doesn't use humans-in-the-loop. I'm glad we finally found Veryfi.

US Largest Federal ERP Provider
Drop an invoice to see 👇
Contact sales@veryfi.com to schedule a call for more information
SDKs: Get Code