Receipt Collection &
Expense Management
on Autopilot
Ideal for Business Owners, Teams & Self-Employed
Trusted by 33,000+ companies
We went from a weekly chaos of receipts and frantic data entry into QuickBooks Desktop to full real-time automation and transparency in a single day. Veryfi is now my team's all-in-one bookkeeping copilot.

Wes from Mahogany Builders, Chicago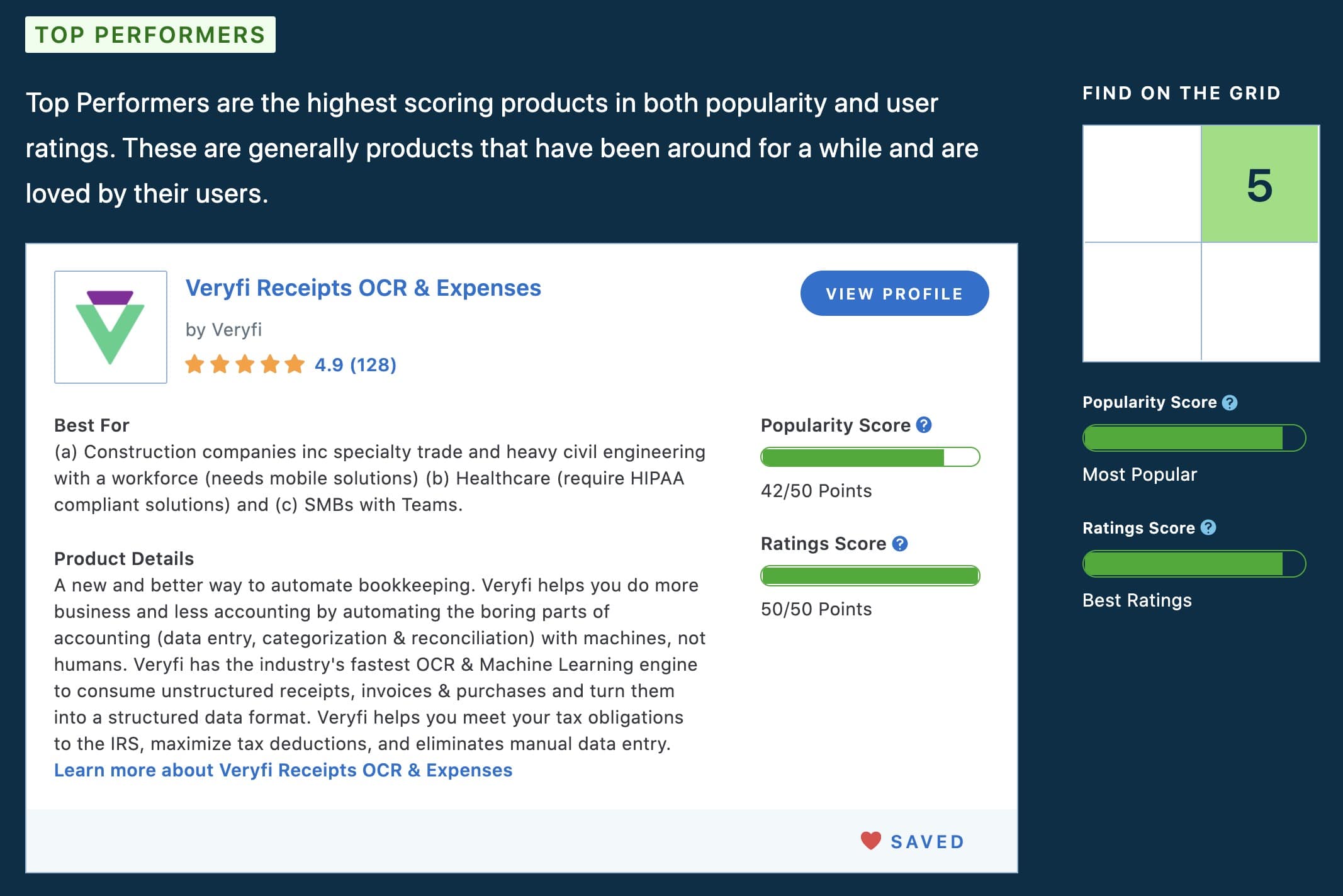 Modern tools to capture receipts
and automate data entry
Industries
The following industries realize on average 20hrs in time saving each month when switching to Veryfi.
Veryfi eliminates the burden of documents collection & manual data entry.
Construction
With teams and contractors on job sites managing receipts from material purchases can be a time consuming and boring burden. Veryfi automates it all.
Specialty Trade
Juggling multiple projects & job sites is tough enough. Veryfi removes the burden of keeping track of customer expenses and data entry.
Self-Employed
Working on multiple projects and keeping track of expenses can be a burden but not when Veryfi is doing all the work for you.
Healthcare
You have lives to save. Let Veryfi keep track of all your expenses & reimbursements in a safe, secure and HIPAA compliant vault.
Startups
Starting up is hard. You already have many things on your mind. Let Veryfi automate your bookkeeping and free you to focus on your business.
Property Investors
Every repair, inspection and expense is a deduction against your real estate taxes. Veryfi helps you manage it with ease.
Features
Veryfi comes packed with a slate of time saving automation tools at your disposal.
Automated Data Entry
Expense data entry, labelling & categorization is for dinosaurs. Veryfi's I/OCR technology does it all for you in real-time. Just snap a picture and it's done.
Projects & Customers
Track your expenses and income against projects and customers with ease. Generate detailed job costing reports by projects.
Advanced Reporting
From Expense Reports to Business Insight Reports like P&L, Monthly Activity, Outlook etc. Unlimited Reports Available 24×7.
Bank Feeds & Reconciliation
Fetch your bank feeds and reconcile transactions (match the balances). Supports 15K institutions.
Email Bills Fetch
Collect or forward your emailed bills, invoices and receipts to your Veryfi Inbox.
Expense Workflow
From creating an expense report to getting manager approvals. Veryfi's expense approval workflow handles all the communication and updates.
Job Costing
Accurately track all Job Costs in one place and monitor everything from invoices and purchase orders to employee timecards.
Document Management System (DMS)
Track, manage and store any document in the field to reduce paper and centralize all your knowledge.
Mobile accessibility
Desk chains be gone! You can access all your project expenses, reports, documents, and your budget from your iPhone, Android or Tablet 24×7.
Veryfi has partnered with qualified accountants and bookkeepers (trusted advisors) who specialize in many facets of accounting in order to provide you with bookkeeping, tax and strategic business advice.
Beautiful Mobile App for your Team
Integrations
Data Extraction

Vendor name

Name
Address
Logo
Phone
Fax

Subtotal
Discount
Shipping cost
Tax (VAT, GST)
Tip
Total
Rounding
Category
Payment Method
Bill To Name
Bill To Address
Bill To VAT #
Document Type
 (receipt vs bill)
Currency
Currency Exchange Rate
Invoice Number
Purchase Order Number
Reference Number
Company VAT Number
Company ABN Number
Invoice Date
Due Date
Payment Terms
Service Start Date (or arrival in hotel folio)
Service End Date (or departure in hotel folio)
Account Number
Ship To Name
Ship To Address
Tracking Number
SKU level Line Items

Date
SKU
Description
Quantity
Tax
Discount
Total
Unit of Measure

Tax lines breakdown

Tax name
Tax rate %
Tax amount

Bank information

Bank name
Routing number
Account number
IBAN
Competitors
Vendor name
Total
Tax
Payment method
Date
"Super easy for me to track expenses in a way that does not take hours and hours."
Consumer Services, Self-employed
"Veryfi's Intelligent OCR (Optical character recognition) made scanning over 2,000 handwritten/printed receipts simple, convenient, and accurate data extraction effortlessly."
Jamie S., IT Consultant