Products to Automate your Business Bookkeeping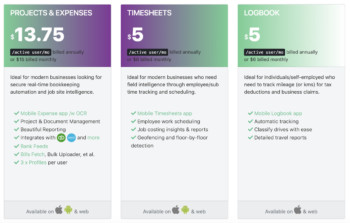 MONEY
$
13.75
/active user/mo billed annually
or $15 billed monthly *
TIMESHEETS
$
5
/active user/mo billed annually
or $6 billed monthly
Mobile Timesheets app
Employee work scheduling
Job costing insights & reports
Geofencing and floor-by-floor detection for auto-pilot clock in/out on job sites
Gusto Payroll Integration
LOGBOOK
$
3
/active user/mo billed annually
or $4 billed monthly
GET STARTED
No credit card required to sign-up. Trial all Veryfi products for 14 days FREE. View and compare
full features
---
Common Questions
How does the 14-day free trial work?
When we say free, we mean free. No credit card, contract, or signature required. At the end of your 14-day trial, simply enter your credit card information and select the products you want to subscribe to, to officially activate your account and continue using Veryfi. We'll even save your data, so you don't have to start over.
more >>
How long does it take for Veryfi to process my documents?
3 seconds. No waiting or processing queues, instant data extraction without templates, vendor identification from logos, trained tax categorization and fort knox security. Veryfi achieves this feat through the use of machine powered backoffice powered by Artificial Intelligence (AI), Optical Character Recognition (OCR) and world's most powerful Machine Models.
Does Veryfi provide Unlimited Usage?
Yes. However by default we cap per user to 500 receipts per month to filter out those trying to scam the system. Unfortunately we had a few of those and so we added a reasonable cap with an option to have unlimited usage IF you reach out and tell us your use case and why you need more than 500 per user / per month. We believe this will drive a fair use behavior.
Is Newbie Training included?
Yes. We'll not only help you set up your Veryfi account, we'll even train your employees on how to use it.
Schedule your 1:1 call NOW
with the Veryfi Team in our Silicon Valley office. Additional professional services including SLAs and dedicated account managers are also available upon request.
I need more than 3 Profiles for each of my businesses
Veryfi support can extend your account
user profiles
beyond the 3 at an additional cost of $1 per profile per month. To request additional profiles please email support@veryfi.com
Is Veryfi Secure?
100% Yes. Veryfi is CCPA, HIPAA and GDPR compliant. Our data extraction is 100% machine powered so only you and your accountant (should you
invite them
) ever see your personally identifiable information (PII) data.
Security at Veryfi
describes more granular measures we put in to protect your data-privacy.
Do you offer Professional Services Support, SLA or Dedicated Account Manager?
Yes. Outside the self-serve model we can offer for your business professional support including an SLA and/or a dedicated account manager. To discuss these options, please contact sales@veryfi.com
Can I get access to your real-time OCR & Categorization API?
Yes. Please contact sales@veryfi.com and we can go over the
Veryfi API
with Real-Time OCR, Categorization and Mobile Camera SDK.
Additional FAQs (Frequently Asked Questions): https://faq.veryfi.com/
Or visit Blog for setup instruction, getting started, connecting other apps etc.
All this in the ONE Place.
Let's make your life easier & more sophisticated?