Veryfi + QBO are your work horses!
Mates you can trust to get the job done well.
Mates you can rely on to always be available and over delivering.
Mates both born in Silicon Valley yet with an Aussie heart (Veryfi cofounder is Aussie).
Veryfi automates the pains of bookkeeping using sophisticated AI-mobile software to;
(a) automate collection, fetching & slurping of your business financial documents (receipts, bills et al).
(b) automate data entry & extraction using proprietary machine vision OCR (Optical character recognition) and
(c) automate and learn tax coding/categorization using deep learning (the stuff you wish you had access to at school ;-))
Since Veryfi is a real-time secure platform, all that data is moved into QBO, with your permission of course.
QBO then handles all your business accounting needs with breeze.
Both mates talk (two-way) so updating something in Veryfi is reflected in QBO and vice-versa. A truly beautiful relationship!
* wipes tears of joy *
You probably want the QBO integration for Veryfi right? If so here it is.
Veryfi + QBO Integration – step by step guide to get you going in 30 seconds!
As you can tell, at Veryfi we love QBO and recommend it. To learn more about Very please read on.
Alternatively you can stop here and we won't get offended. 🙂
Today, bookkeeping in small businesses starts off like this…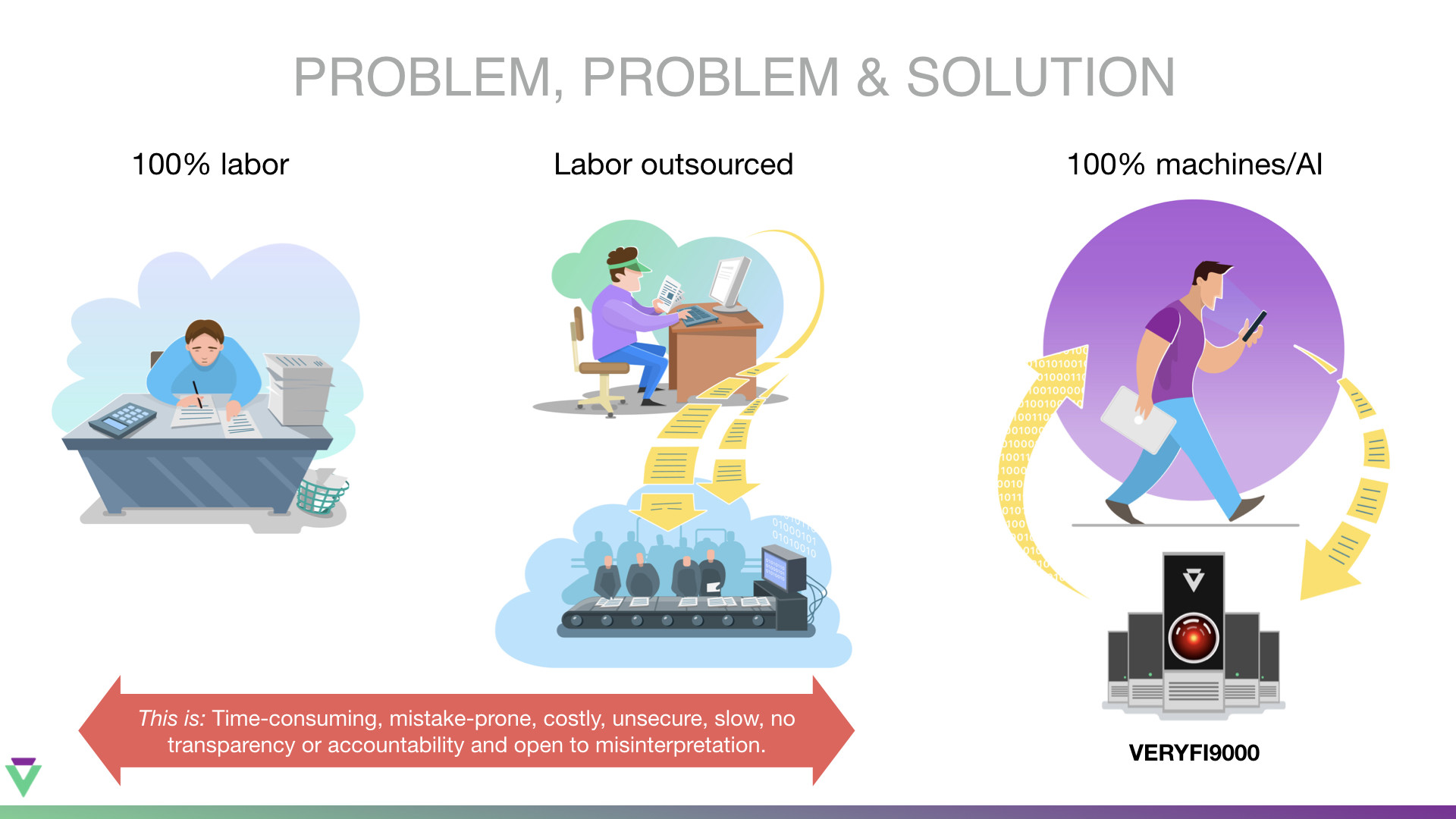 1- The old school pen & paper approach. On average this costs a business owner 8 hours of their time per month.
2- When Cashflow allows, most implement software that requires a bookkeeper to operate. That software uses a farm of mechanical turks to do data entry.
As a business owner you now have a human cost, software cost & a privacy issue.
So, let's fix this.
3- And introduce intelligent, secure, simple to use modern mobile software which automates data entry & uses machine learning to replace human labor end-to-end.
Just like driving a car, at Veryfi we believe an exceptional business needs to react & adjust to changing conditions in realtime on a secure platform. Not at the end of each month when a bookkeeper arrives to close the books.
Veryfi is now a bookkeeper in your pocket. And best of all, Veryfi works flawlessly with Intuit's Quickbooks.