A great way to get the most out of Veryfi is to invite your accountant, bookkeeper, or tax pro to work directly in your books. This will allow them to play a bigger role in your business's success.
That way, your accountant can make changes at his or her convenience the same as a Company Administrator, and you can both work in your data at the same time.
If your accountant no longer works for your company or if access is no longer needed, you also have the option to remove the accountant user from company file by disabling their account in MY TEAM.
Forget the old school methods of doing this. No more sending or faxing paper documents at the end of the year.
Giving access to your accountant or bookkeeper empowers them with:
24/7 access to all your business financial documents like receipts, invoices, bills, attachments, timesheets, logbook et al. No more faxing, emailing or posting physical documents before tax time.
Streamlined communication. Your accountant will be able to communicate with you on outstanding documents using Veryfi messaging tool.
Run reports on the health of your business to gain insights and provide you regular advice.
Play a more active role in your business success as a trusted financial coach / advisor.
It's a win-win for everyone.
How to Invite your Accountant or Bookkeeper
Login to Veryfi on the web: https://hub.veryfi.com/
Once logged in, press "My Team" the left menu.
In My Team view, you will see (as picture) "Invite Accountant" button. Press it to start the process.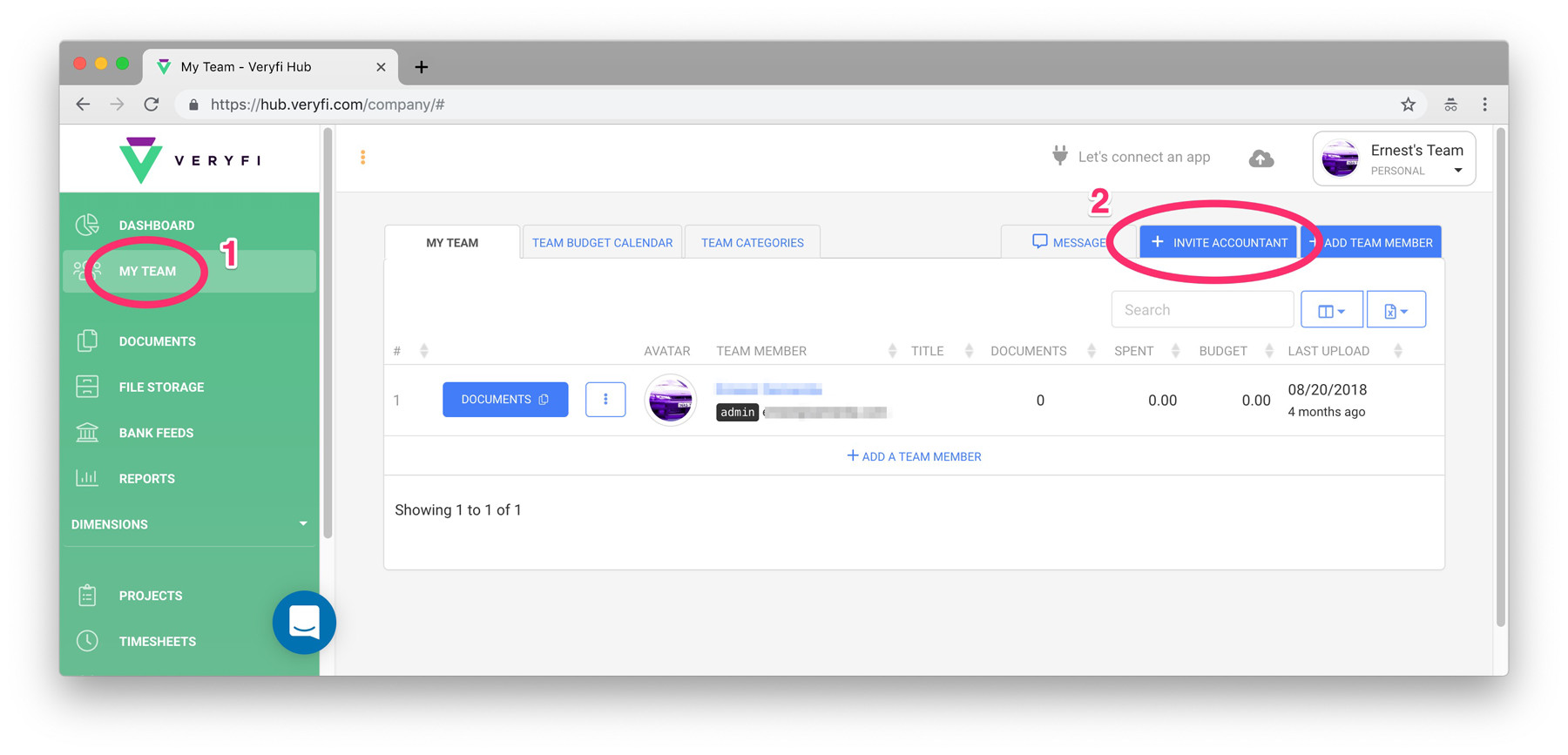 What will happen next
Your Accountant (or Bookkeeper) will receive a unique invite link to Veryfi. They need to click it to register as an Accountant.
After registration, their account will be connected to yours so they can work directly in your books.
You will not be charged for adding your Accountant to your Team. The software is free for Accountants (or Bookkeepers) to manage client accounts. Also known as Practice Management Software.
---
How to add your client to Veryfi's practice management software
The following is for trusted advisors (accountants and bookkeepers).