QuickBooks Desktop
Feb 09, 2017 • 2 min read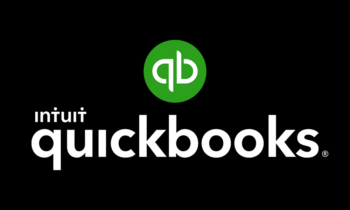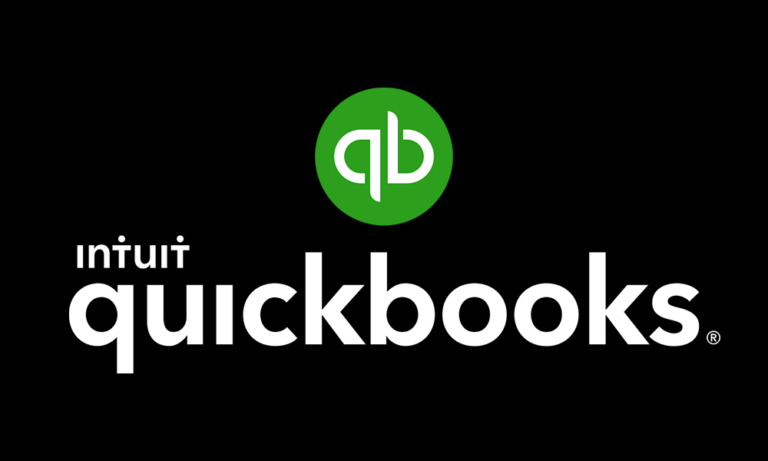 Veryfi takes the stress out of bookkeeping, even when using offline software such as Intuit QuickBooks Desktop. We'll show you how to collect receipts and bills using the Veryfi mobile app and then send them to your QuickBooks Desktop account.
Before we proceed, it's important to note several things. First, you must start an account with Veryfi to access Connected Apps like QuickBooks. Signing up is free and takes less than 30 seconds. Learn more about member benefits here.
Second, the instructions below make references to "IIF" files. This file format was developed by Intuit and stands for "Intuit Interchange Format." These files enable you to import lists and transactions into your QuickBooks account.
1. Inside Veryfi Hub, navigate to "Settings > Connected Apps":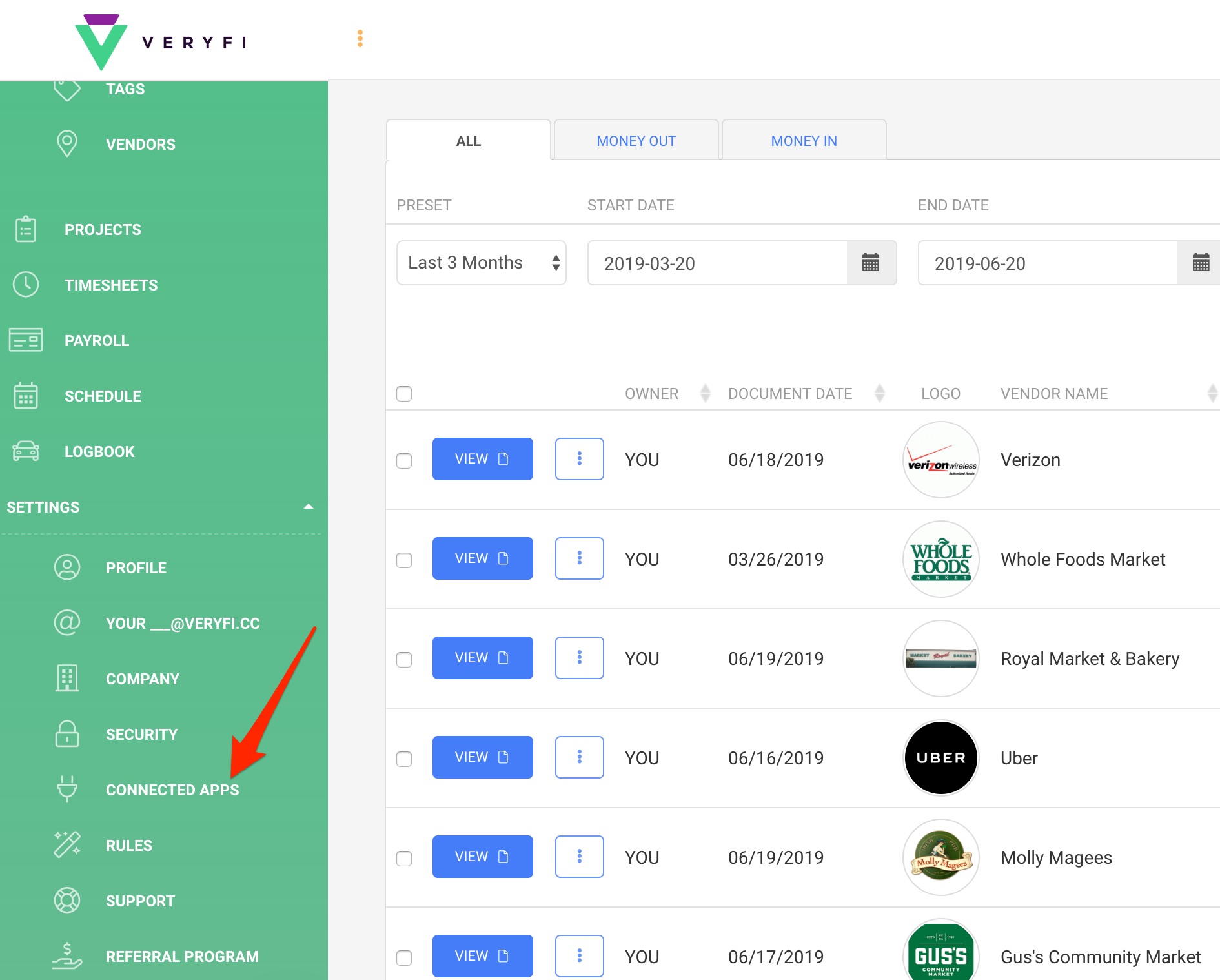 2. Click "Connect" to begin the integration process:

3. EXPORTING IIF WITH CHART OF ACCOUNTS
At this point, you need to export an IIF file of your Chart of Accounts, Customers and Classes from your QuickBooks Desktop account and have it emailed to Veryfi. The screenshot below shows the necessary steps to take inside QuickBooks Desktop.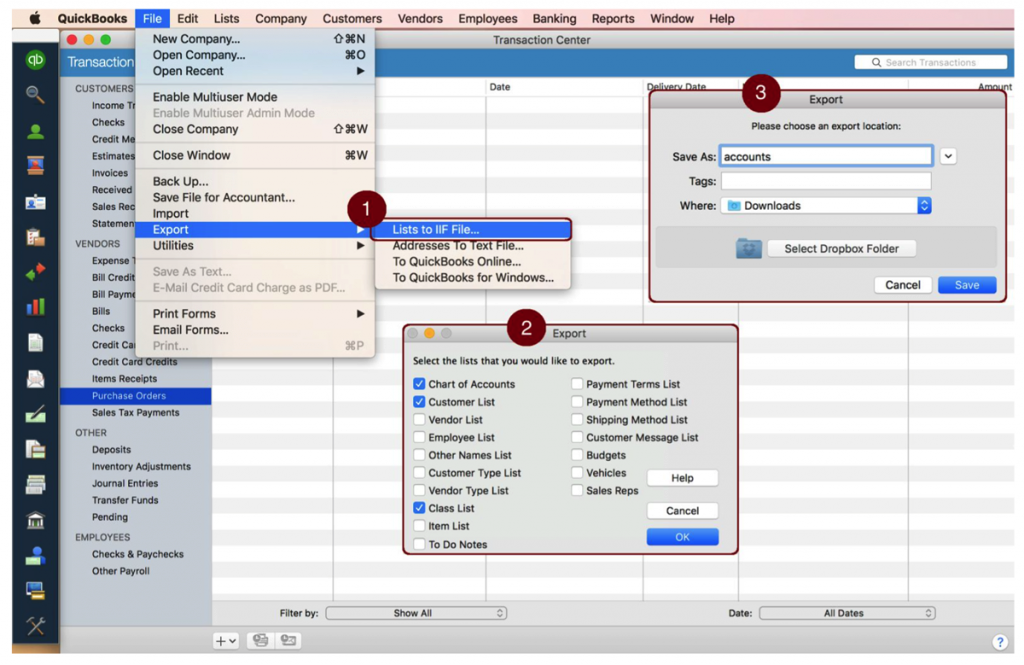 After you email the IIF file, allow 5 minutes of processing time. You'll be notified when this is complete through both a message on your phone and an email. Veryfi parses your IIF file and creates same list of Categories you have in QuickBooks and populates the Customers under Customers in Veryfi. If yuo are using Classes in QuickBooks, you will see them as Tags in Veryfi.
Now you can finish the setup process inside the Veryfi app, or on your computer here: Connected Apps.
4. MAP YOUR PURCHASE ACCOUNTS FROM QUICKBOOKS
After linking QuickBooks to Veryfi account you will need to map your Payment accounts in Veryfi with your Purchase Accounts in QuickBooks Desktop. It can be done here: https://hub.veryfi.com/payments/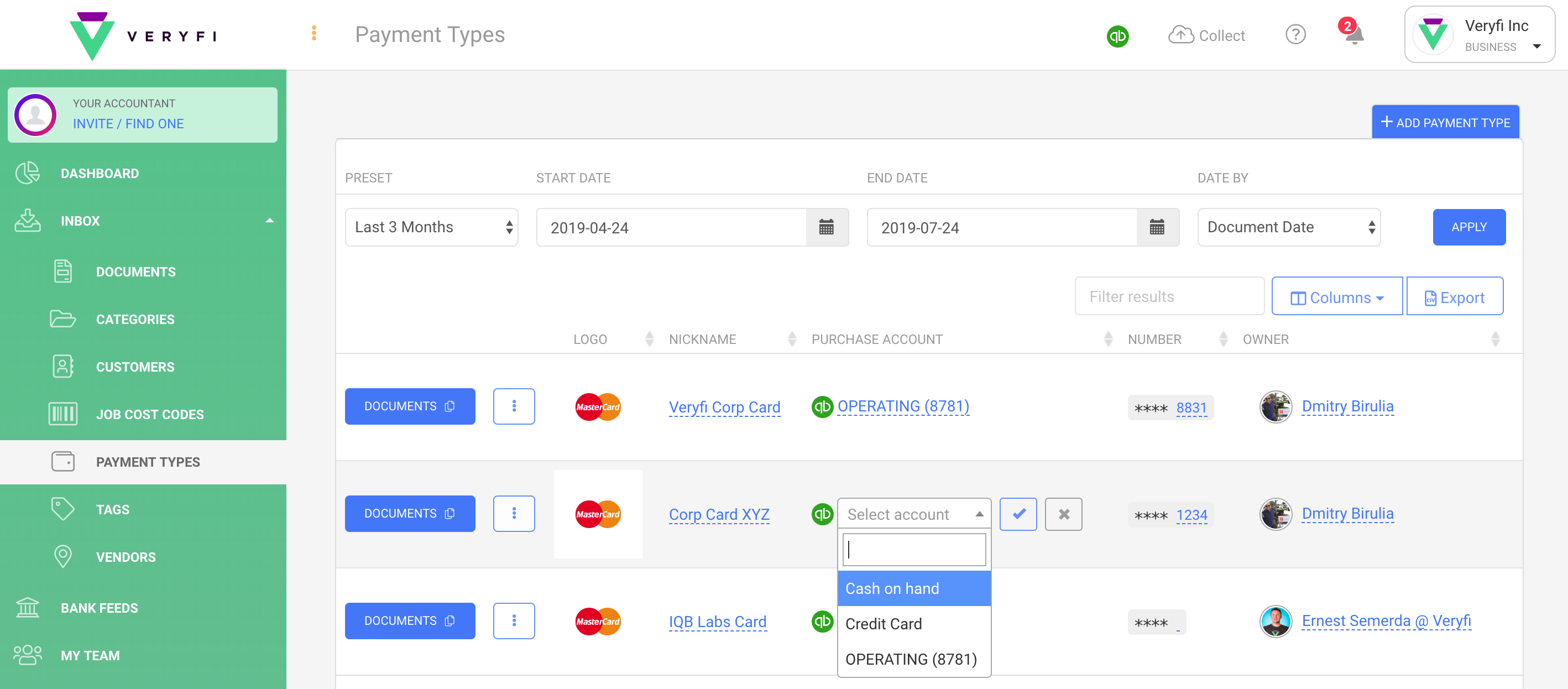 5. IMPORTING RECEIPTS INTO YOUR QUICKBOOKS DESKTOP
Generate Veryfi .IIF report:
Navigate to Reports Section: https://hub.veryfi.com/reports/
Click on "+ Create Report" button
Choose date range and select IIF option as the Report file format and then click on "Create Report" button
A report with the .IIF file will be emailed to you within 5 minutes. It will also be available for download in Reports > Documents inside the Veryfi HUB
6. IMPORTING IIF WITH TRANSACTIONS
The report email you created will contain the IIF file with your transactions. It will also include instructions on how to import that file into your QuickBooks Desktop account. The actual receipts are not included in the IIF file (this is a limitation of the IIF format). However, the notes field for each transaction will have a direct link to the Veryfi server so you can download receipts.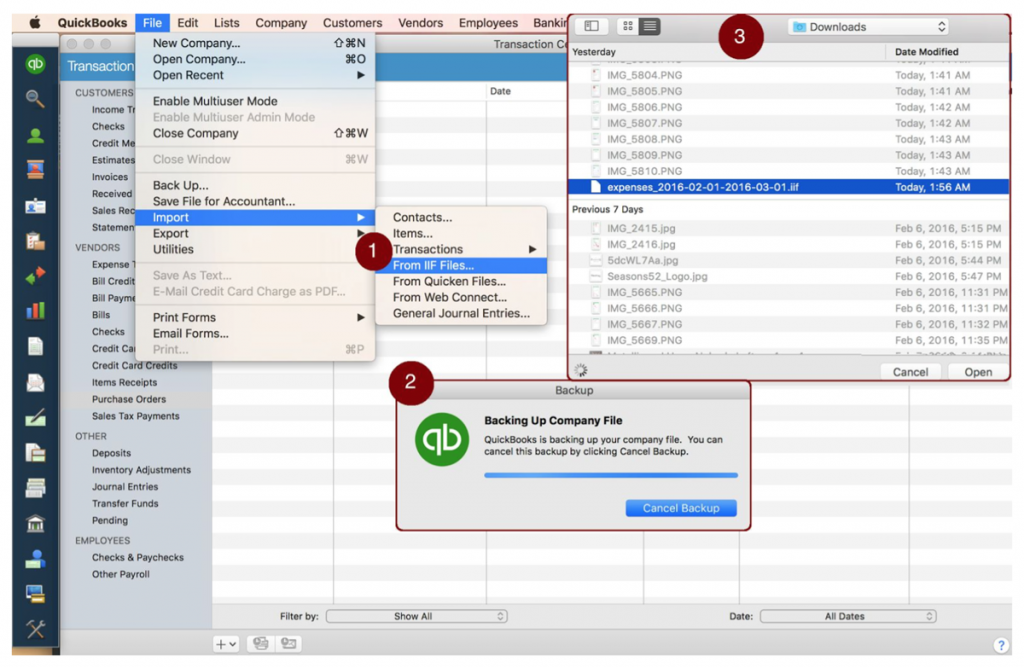 And We're Done. All your purchases and bills are now available inside your QuickBooks Desktop account, as shown in this graphic.

UPDATING CHART OF ACCOUNTS, VENDORS, PROJECTS IN VERYFI
When you added a new Account to your Chart of Accounts or a new Vendor or Customer / Job in your QuickBooks file you can update the lists in your Veryfi account by uploading updated .IIF file to Veryfi as shown Below: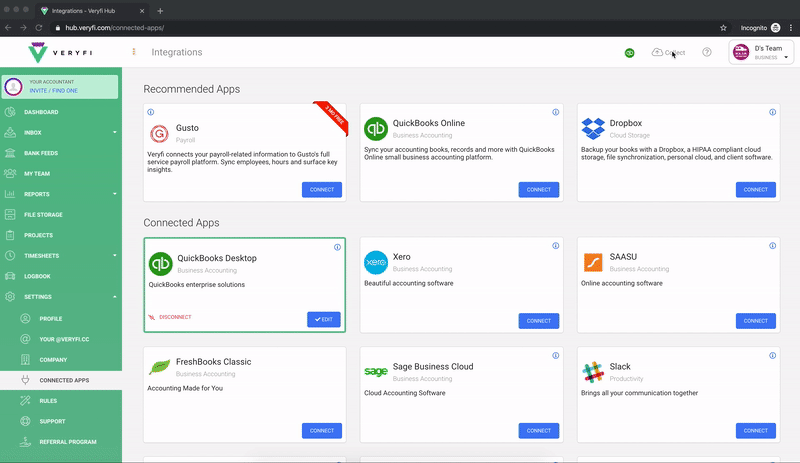 Veryfi only stores a secure token provided by Intuit QuickBooks for the purpose of authentication. No login or passwords are ever stored by Veryfi. All communication between your phone, Veryfi and QuickBooks is done over a secured & encrypted connection. You can read more on our Security Policies and Privacy.
VERYFI ON INTUIT APPS.COM STORE
If you enjoy how Veryfi works with QuickBooks, please leave us a review.
Thank you!
❤️ Team Veryfi