Supercharge your mobile app with the world's fastest, accurate, machine powered data extraction framework. In minutes your engineering team can enable expense management capabilities, support for paper receipt, invoice or bill scanning and back-office paper digitization by dropping in Veryfi Lens into your native or hybrid mobile app. It's that easy and fast.
Give your business a competitive edge and your customers secure machine automation like they've never seen before!
Go from paper to data in 3 seconds…
1. Scan a Receipt using Veryfi Lens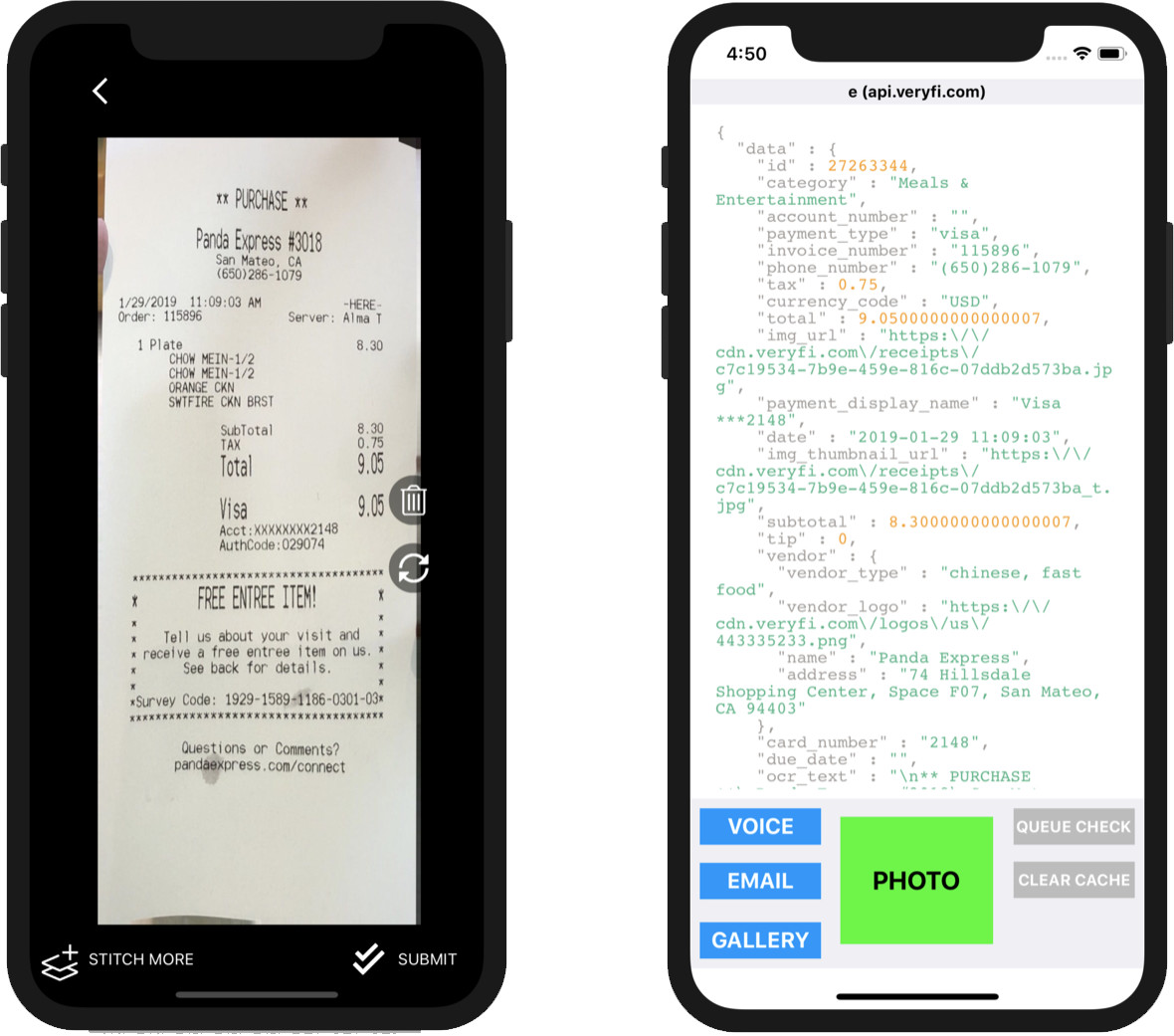 2. Veryfi will extract in 3 seconds…
Vendor name, vendor address, vendor type, vendor phone number
Vendor Logo with training ability
Transaction totals (including handwritten)
Transaction subtotals
Tax including International taxes (GST, HST, TVP, TVQ, VAT et al)
Tips (including handwritten)
Date & Time
Payment type including Card number and Card type (Visa, Amex, MasterCard et al)
Currency detection with automatic currency conversion when traveling overseas. Conversion is based on the date on the receipt/invoice
Automatic receipt categorization based on applicable regional accounting/tax codes
Invoice information like Invoice Number, Account Number, Due Date etc
World's 1st machine powered end-to-end line-by-line item extraction from receipts, invoices and bills in seconds
Furthermore, every data field extracted is Labelled and Categorized based on your company's ledger accounts and historical inputs.
Veryfi API parses and understands
Paper & digital receipts
Paper & digital invoices (including line items with tax, total and categorization)
Paper & digital bills
Paper checks (cheques)
Business cards
PDF417 and QR barcodes
Veryfi API is the platform behind this customer facing technology. You can read and test drive it using Veryfi's online API demo page.
There are probably many more applications for this amazing technology which we are yet to discover ourselves but the above cover the most common use cases we have seen our customers use Veryfi Lens for so far.
Interested or have questions?
Visit our FAQ Page: https://faq.veryfi.com/collections/1801814-veryfi-lens-scanner or reach out directly to our sales team.
Reach out and say g'day on sales@veryfi.com