Veryfi's custom camera (Veryfi Lens) for iOS & Android abstracts the complexity of pre-processing on the device with receipt detection & auto crop, distortion correction, et al.
This is the identical smart custom camera used in all Veryfi products. Now you can have the same leading edge technology embedded inside your mobile app.
What you can build with Veryfi Lens
Receipt & Invoice OCR capabilities (great for banking apps)
Simplify Tax Reconciliation by auto-matching & balancing bank feed transactions with receipts
Improve your user experience by eliminating data-entry in your mobile app
Speed up Tax Audit with automated back-office bookkeeping
Pay Invoices with a picture like H/B Halleman Bradley Bank implementation Snap2Pay
Process checks (cheques)
Add business card reader capabilities
Your imagination is the limit. Imagine what you can build with a platform that extracts EVERYTHING from unstructured documents with ease & without the use of Templates.
Go from paper to data in 3 seconds…
1. Scan a Receipt using Veryfi Lens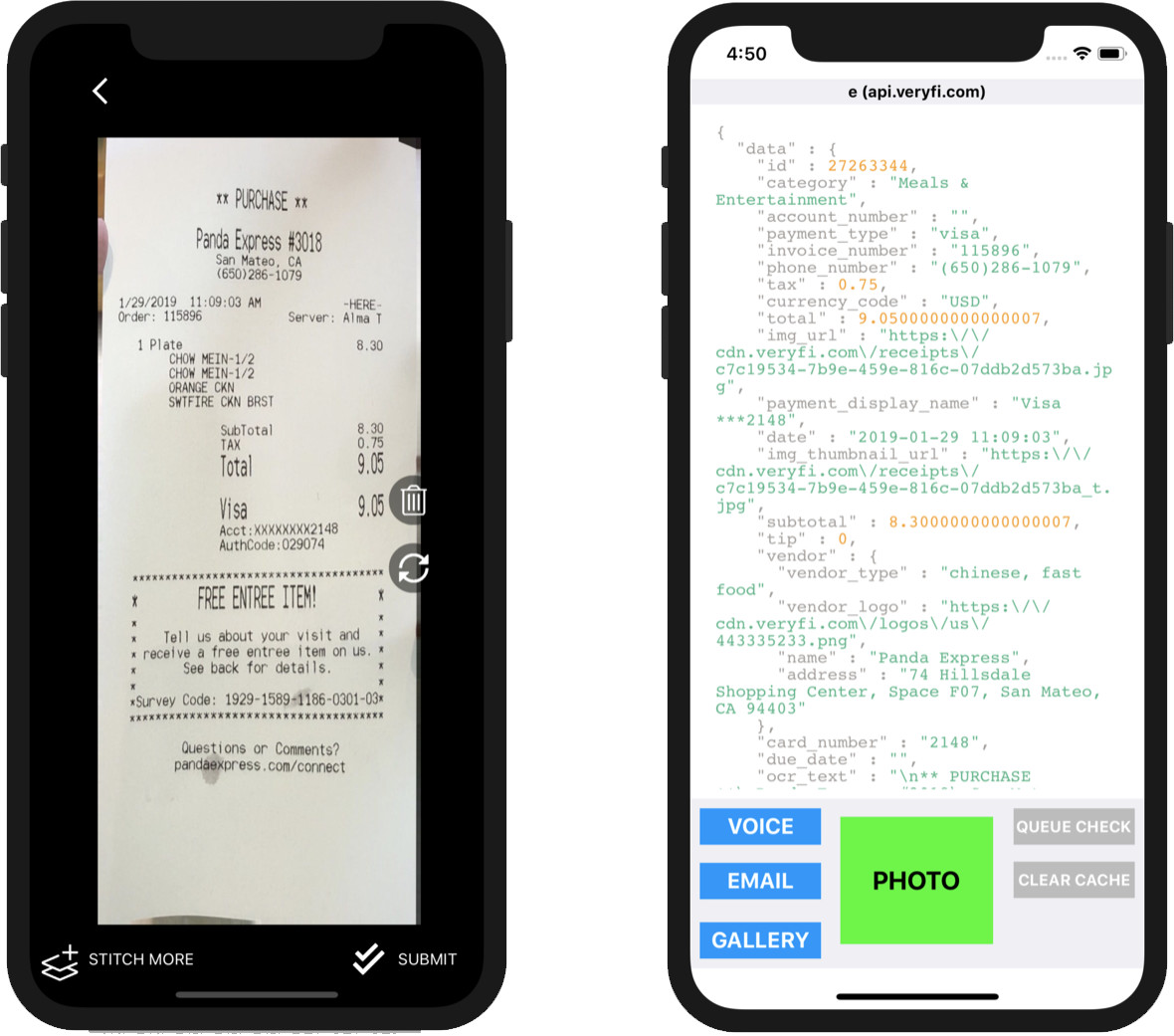 2. Veryfi will extract in seconds…
Vendor

Name
Address
Logo
Phone
Fax
Email
Latitude
Longitude
Website Url
VAT Number (Value-Added Tax)
ABN Number (Australian Business Number)
Store Number

Values

Subtotal
Discount
Cashback
Shipping cost
Tax (VAT, GST)
Tip
Total
Rounding
Currency
Currency Exchange Rate
Insurance Amount

Meta

Document Type (receipt, bill, check & purchase_order)
Document Title
Category
Package Weight (eg. kg/lb)
Date

Invoice Date
Due Date
Payment Terms
Order Date
Ship Date
Delivery Date
Start Date (or arrival in hotel folio)
End Date (or departure in hotel folio)

Identifiers

Account Number
Invoice Number
Purchase Order Number
Reference Number

Bill To

Name
Address
Phone Number
Email
VAT Number

Ship To

Name
Address
Tracking Number
Line Items

Date
SKU (Stock keeping unit)
Section
Description
Quantity
Unit of Measure
Price
Tax
Tax Rate
Discount
Discount Rate
Total
Type (food, product, alcohol,..)
Weight (eg. kg/lb)
Start/End Date
HSN (Harmonized System Code/Number)

Tax Lines Breakdown

Tax name
Tax rate %
Tax amount

Bank Information

Bank name
Routing number
Account number
IBAN (International Bank Account Number)
SWIFT / BIC

Payment Method
Furthermore, every data field extracted is Labelled and Categorized based on your company's ledger accounts and historical inputs.
There are probably many more applications for this amazing technology which we are yet to discover.
Interested?
Reach out to us on sales@veryfi.com and let's explore what you can build today for your customers.