Veryfi OCR API for Real-Time Data Extraction from Receipts & Invoices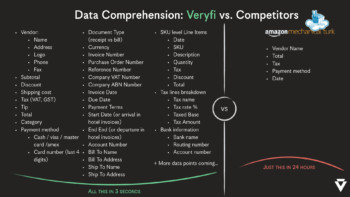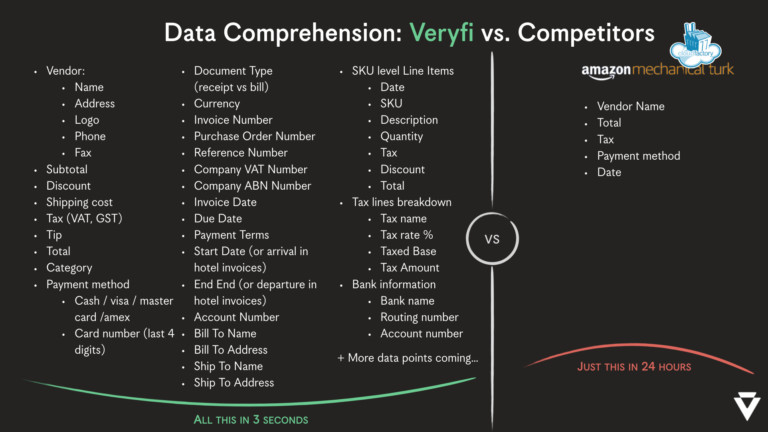 Veryfi OCR API helps you leap over your competitors with the most advanced and intelligent OCR (optical character recognition) & ICR (intelligent character recognition) data extraction API Platform available on the worldwide market today.
Veryfi OCR API extracts and categorizes receipts & invoices in 3-5 seconds.
Long gone are the days when you had to wait for data to be extracted. You can now do it in REAL-TIME using MACHINES with 0 human intervention, say Hello to Veryfi OCR API.
Comply with CCPA Californian data-privacy regulations starting in 2020.
Comply with HIPAA for healthcare data extraction.
Comply with GDPR General Data Protection Regulation regulation in EU law on data protection and privacy for all individual citizens of the European Union and the European Economic Area.
Meeting compliance is now far easier than with competing solutions that still rely on humans in the loop. Give your software superpowers today!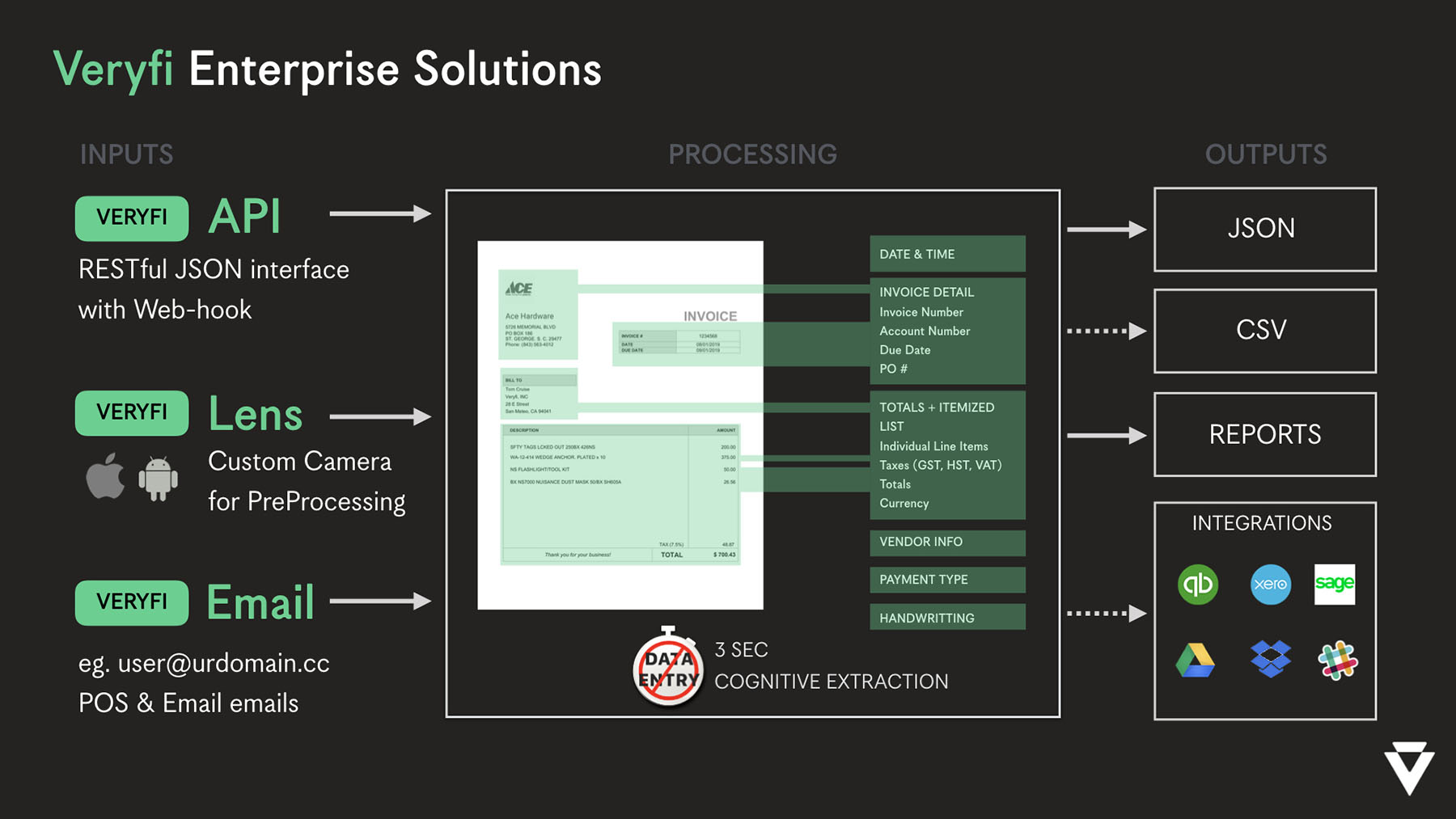 Restful JSON API
Turns unstructured photos, pdfs & emails into structured data that can be used for bookkeeping & business intelligence.
Powerful Image Corrections
Automatically corrects image distortions like pin & barrel, detects blur & adjusts perspective issues allowing accurate data extraction.
Categorization
Veryfi Machine Learning Models accurately extract data & categorize documents based on IRS Tax codes or it can use your list categories.
Addon: Veryfi Lens
Veryfi's custom camera for iOS & Android abstracts the complexity of integration with a drop in binary. Be running in minutes!
Secured by Shield
Data-privacy is a human right. Veryfi security leapfrogs industry standards. AES At-Rest and In-Transit, TLS 1.2 + GDPR, HIPAA, ITAR (Federal) & CCPA compliant et al.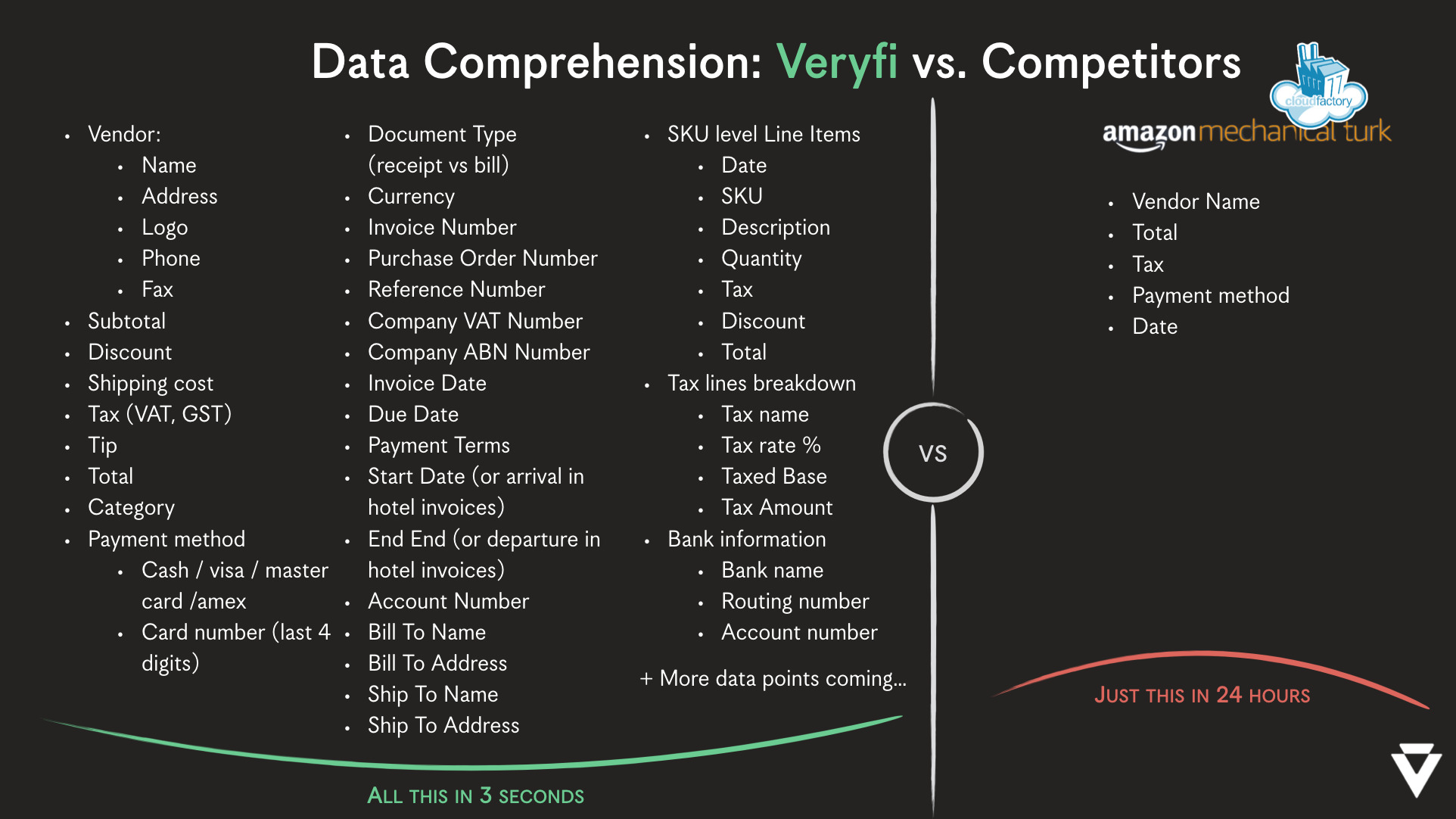 Try It Now
Interested? Secure your spot today
Veryfi API + Lens (custom camera with pre-processing) is currently being offered to prequalified companies. If you are interested in learning more and potentially getting access to this exciting offer, please contact us.