Hello.
If you landed on this page it must mean you're strongly considering Veryfi but might not be completely sold on the idea of carrying around a bookkeeper in your pocket. That's OK, because, like Rome, the path to financial freedom was not paved in a day.
In fact, it takes a lot LESS effort than building an empire.
We understand the value of your time — that's why we built a bookkeeping app with the speed, accuracy, and security of Veryfi — so we're going to make this short: Whether you're an individual user or a business account, getting started with Veryfi takes seconds.
You'll spend more time reading this blog than you will taking the first step toward total control of your financial prosperity.
What is Veryfi?
Veryfi is Software built for modern businesses who want real-time data to automate their bookkeeping, gain business intelligence and financial prosperity.
At Veryfi, our mission is to automate bookkeeping, starting with construction bookkeeping automation of time & materials for the architecture, engineering & construction (AEC) workforce. We help businesses of all sizes to get access to Veryfi's smart mobile tools to eliminate 90% of time wasted doing data entry (& chasing records), improve job costing and empower their financial prosperity.
Products
As of writing, Veryfi is made up of 3 products to help you automate bookkeeping:
Money Management: helps you eliminate data entry and categorization of your financial purchases using using a powerful real-time OCR for receipts, bills and invoices. It also includes bank feeds, connections to your favorite accounting software and more. more >
Logbook: jump into your car and drive. This app does the rest. Tracking all your drives. When you are done, just swipe left or right to categorize the transaction. more >
You can start using Veryfi by downloading all or the app you need. Registration is free and you have the option to jump on a Subscription plan or use the app for free (with limitations). No credit card required to sign-up.
Veryfi Platform
Veryfi uses a proprietary real-time OCR and our own machine learning models to power the AI side of the product intelligence. There are 0 humans in the picture. Your data is safe.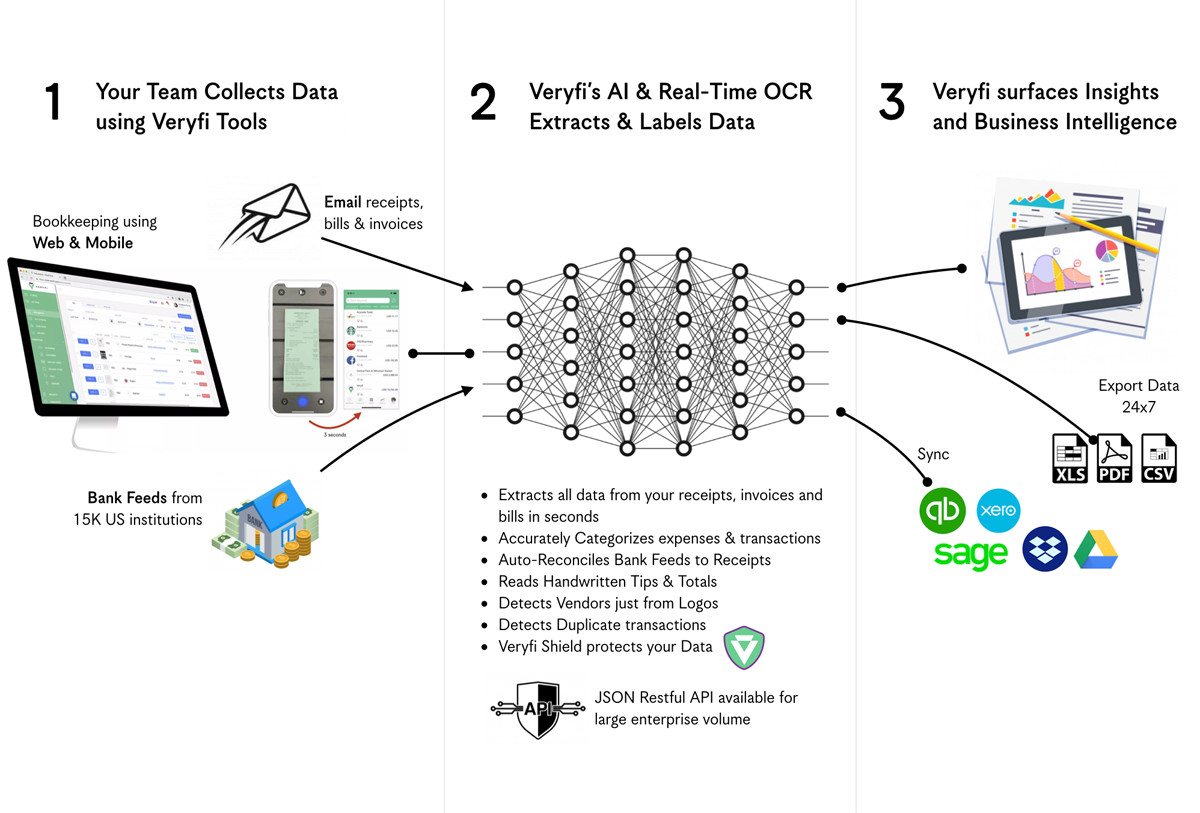 Real life use case
Watch Veryfi iOS App Scan a Restaurant Receipt
In the following real world video you will see how the app took "seconds" to:
Extract all the data from the stitched receipt and assigned the correct labels as seen in the video,
Tax categorized the transaction based on IRS deductible labels,
Flawlessly read my handwriting of the tip and total,
Enriched the vendor info it extracted with additional data inc logo,
Detected it was a duplicate scan (I scanned it twice to see), and
Pushed the data to my Dropbox for backup
You are in good hands
There are no gimmicks or catches with Veryfi. We built the app as such because we had a need for it and found nothing like it on the market.
After you spend some time using Veryfi, you might want to do more with the app. That's great, and we encourage you to get everything you possibly can out of it. We offer a subscription al la carte model where you choose what you want to pay for and also a free plan with limitations.
Ready to get started?
If you have already signed up then please make sure you walk through the Getting Started guide. Otherwise click the button below to signup for free and test drive Veryfi today.
❤️ Team Veryfi