Spring is in the Air
We are excited to share with you a host of updates and news! Firstly, you might have noticed that our website has undergone a facelift. We have refreshed our brand to better reflect our core values. If you are interested in learning more about our brand's reimagination journey, we encourage you to read about it here.
Secondly, we are constantly striving to provide you with the latest features and updates in the most comprehensive format possible. Our goal is to equip you with the most cutting-edge data extraction technology to help you stay ahead of your competition.
Veryfi Lens for Web
What's New
We are thrilled to announce the release of Veryfi Lens for Web on March 23, 2023. This groundbreaking technology marks the world's first-ever AI-based edge detection and document blur detection running directly in a browser on any device, whether it be a mobile phone or a desktop computer.
With Veryfi Lens for Web, developers can easily capture and extract data using a combination of OCR and AI without installing a single piece of software.

This powerful addition enables developers to create experiences using common web technologies, such as HTML, CSS, JavaScript, and WebAssembly, while taking advantage of the powerful document capture capabilities offered by Veryfi.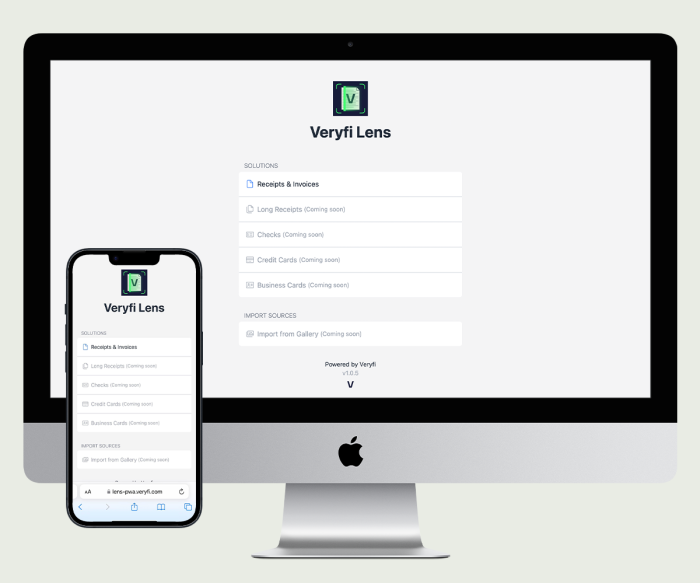 Features
The Veryfi Lens for Web provides:
Time savings: With automatic edge detection, users don't have to move their camera around to fit the borders, saving time and effort.
Increased accuracy: The automatic document detection recognizes receipts, invoices, and hotel folios, reducing the chances of incorrect data entry.
Convenience: Auto-cropping eliminates the need for users to manipulate captured images, making the process more convenient.
Improved image quality: The intelligent document preprocessing removes distortions, and the proprietary compression algorithm optimizes image quality for available upload bandwidth, resulting in high-quality images.
Enhanced user experience: Automatic blur detection helps to provide feedback to the user on image quality, improving the user experience.
Who It's For
Veryfi Lens for Web provides advanced data capture functionality to improve the customer experience and data extraction quality, at scale, without requiring the download of a native application. Users can capture documents directly from a browser-based application, regardless of device type, and without requiring the user to install anything.
If you are looking to increase mobile user engagement and conversion rates, PWA apps are a compelling improvement over mobile website experiences. Now, you no longer need to compromise on features or data extraction accuracy when providing PWA apps to your users. The average conversion increase from PWA apps is 36%, versus mobile websites, and since the beginning of 2021, desktop PWA installs have grown by 270%. By switching to PWA apps, large companies across industries are seeing higher install rates, user engagement, conversion rates, and more.
Want to learn more or add this to your product but not yet a Veryfi customer? Contact us here or message sales@veryfi.com and a member of our team will reach out.
Formatted JSON
What's New
Veryfi's new navigation feature allows users to hide sections of JSON code when exploring data and increases clarity around the extracted data. This feature saves time, reduces errors in data acquisition, and improves overall efficiency for users. With the ability to easily navigate through JSON code, users can focus on the important data fields without getting bogged down in unnecessary information.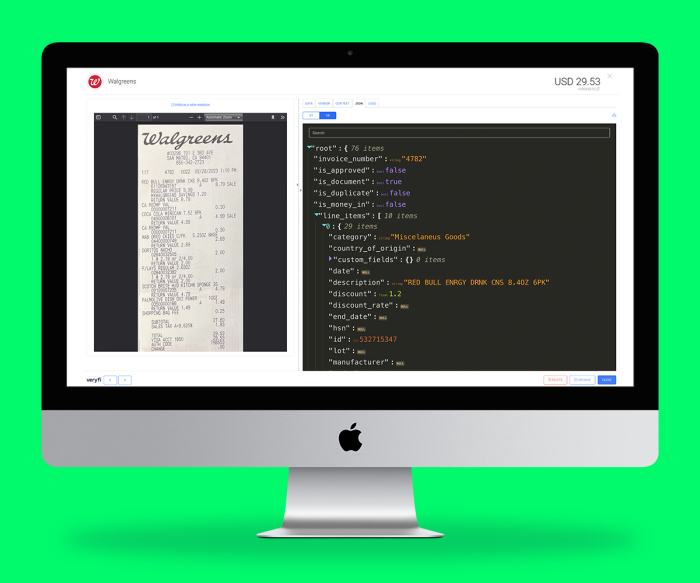 The Benefits
Now, you have the ability to go through extracted values much faster. Sort fields using search so you have all total related fields on the screen.
Who It's For
It's now available to all Veryfi OCR API Platform users.
Permissions Access
What's New
OCR API Platform product customers can now add as many team members as you need inside the API Portal. To ensure safety and security, we have introduced an additional control for Admin users to access API Keys, which can be granted to other Admin users. We understand that API Keys are sensitive information, and any compromise or exposure could lead to data breaches or other undesirable situations. It's important to note that when you add external team members to your company account, you should exercise caution and follow proper security protocols.
Features
Access to API Keys can be granted to Admin users only
For non-Admin users, access to API Keys is restricted
Who It's For
It's now available to all OCR API Platform users. To get instructions, go here.
Thank You to Our Amazing Customers
Thank you to our customers for choosing Veryfi as your go-to solution for data extraction and achieving your business objectives. We value your partnership, which has enabled us to maintain our leading position in the market.
If you're interested in testing out Veryfi, you can create a free account, try our free web demo, or schedule a demo!