If you run a business or are self-employed then you are probably getting buried in a pile of paper receipts. You know that you need to have burden of proof (receipts) should the tax man knock on the door. And storing these documents for up to 7 years is very painful. Not to mention the data entry that usually follows it procrastinated till the last wee hour of the month.
Let's digitize those paper documents…
And not just digitize the picture but also extract the data from it, categorize it and reconcile it all automatically. Sounds good?
1 Snap, and it's Done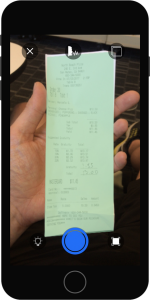 1. After starting the app you will see 5 buttons in the footer where the middle one says "Collect". Press it.
2. A scan view as show pops up and instantly starts hunting down the receipt in view. The green fill rectangle in picture is our home grown receipt detection engine at work helped by our custom machine learning models used to identify your document, crop it and prepare it for upload to the Veryfi cloud.
And yes you can hold the receipt in your hand and the result will always be JUST the receipt. You hand and all background noise is automatically removed.
Veryfi expense collection in 3 seconds
Pro tip: Check out our best practices for how to achieve perfect receipt capture quality.