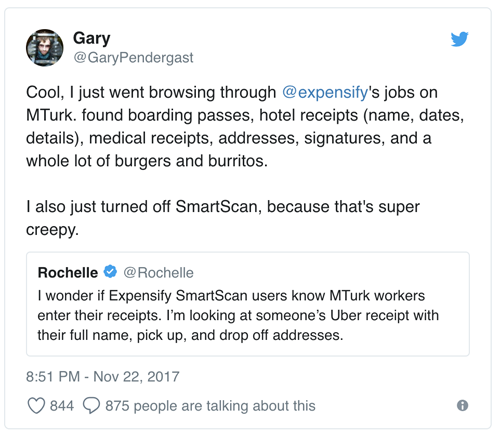 Have you read our blog post on who is spying on your data? You might not know this but there are technology companies which use foreign cheap human labor for backoffice work.
This work includes (but not limited to) data extraction from receipts & bills data extraction. Read the blog post on how unsecure this activity is and as a consumer (or accountant) you should be demanding for higher standards.
This is why we built migration tools to help save your data before a rogue actor exposes your personal data online or sells it to a 3rd party for malicious use.
This is exactly what happened with Expensify in 2017. Here is the back story; It's not always ai that sifts through your sensitive info, here and here.
Why should you care?
Data breaches are on the rise. This shouldn't be a surprise to you. The news is covering them weekly. What are you going to do about securing your business financial activity?
"ITRC reported that Commercial businesses accounted for more than 50 percent of data breach targets, and more than 157 million compromised records in 2017."

BNA: https://www.bna.com/2017-year-data-b73014473359/
Would you give the keys to your house to strangers? Business financial activity data is rich with PII (Personally identifiable information) eg. your Uber receipt has your home address.
Your team cares about data-privacy. Be transparent where their data will be handled when they do an expense reimbursement.
Lack of compliance and transparency is how this all starts. Let's put a stop today.
Let's get you to safety
We support data migrations from most services and have so far migrated customers from the likes of:
and migrate you to Veryfi.
How Veryfi handles your data
We take your data-privacy and security seriously. We protect your account with MFA (multi-factor authentication), biometric, password hashing and strong policies, AES data encryption at rest and in transit and much more,
We are upfront about our backoffice machine automation vs incumbents. You should know where your data sits, how it moves from the cloud to your device and how to backup it up and
We are fair on our pricing and plans. It's all UNLIMITED. All you can eat. For a flat price per month. And you only pay for products you use.
You can also learn more from Why Veryfi post and Customer Stories.
Ready to migrate?

Migrate today from one of the above mentioned providers and get 2 months FREE on an annual subscription.
Simply email us on support@veryfi.com and (a) reference this blog post and (b) tell us your preferred contact information so we can reach out.
This is a limited volume offer. This deal will not last.
❤️ Team Veryfi