In the current landscape, consumers are presented with a plethora of options when it comes to software selection. However, making an ill-informed choice solely based on price can lead to detrimental outcomes. Nowadays, an online company is inherently interconnected on an international scale, necessitating the consideration of factors beyond one's own geographical boundaries. It is imperative to incorporate support for global currencies, languages, and date/time formats to effectively cater to the diverse market.
At Veryfi, we deeply comprehend the significance of this dynamic and are committed to facilitating your software selection process to streamline your workload and enhance productivity. The purpose of this discourse is to provide you with a comprehensive analysis of Veryfi versus NanoNets, enabling you to make an informed and prudent decision.
Features
NanoNets is a platform to help developers build Machine Learning models.
Veryfi is a market leader in real-time Data Extraction from Receipts, Invoices and other financial documents.
Headquarters

Bengaluru, IN and Mumbai, IN
San Mateo, California, US
Customer Reviews
66 Reviews on Capterra
155 Reviews on Capterra
Speed of OCR Processing
(Time to Value)
Fast for 5 fields and slow for rest
Fast! Seconds
Uses Humans-in-the-Loop (HITL)
Yes
No
Extracts Line-Items
(inc. SKUs, UPC etc)
No
(additional human & template service required)
Yes
International Language Support
Yes
Yes
Global Currency Detection
(if you are online you are a global company)
No
Yes
International Taxes (GST, HST, VAT)
No
Yes
API For ML Training
Only on Enterprise plan
On all plans
API For Fraud Detection
No
Yes
Security, Privacy & Customers
SOC2 Type2 is considered better than SOC2 Type1 because it provides a higher level of assurance and demonstrates a longer period of sustained compliance with the defined criteria.
Security and privacy measures help safeguard sensitive information from unauthorized access, disclosure, or misuse. By prioritizing security and privacy, you can ensure the confidentiality, integrity, and availability of your data, protecting it from theft, breaches, or unauthorized use.
Trusted by the World's 🥇 Leading Companies
Document Capture
In the contemporary landscape, mobile technology has emerged as an omnipresent force, shaping the current and forthcoming realms of customer engagement due to its unparalleled convenience and seamless accessibility. Consequently, it becomes imperative for your application to be meticulously crafted with an unwavering emphasis on mobile platforms, in order to effectively cater to the evolving needs and preferences of the discerning clientele. By embracing a mobile-centric approach, you can ensure optimal user experience, capitalize on the growing mobile user base, and position your app as an indispensable tool in the dynamic digital ecosystem.
Products
iOS Lens
(Capture Framework for your native app)
No
Yes
Android Lens
(Capture Framework for your native app)
No
Yes
Lens for Web
(Capture framework for your web app)
No
Yes
SDKs
Accelerate time to value with ready to go SDKs for your favorite language.
No
Yes (SDKs for Go, Python, C#, Java, NodeJS, Ruby and more)
The phrase "Rubbish In = Rubbish Out" in accounting highlights the importance of accurate input data for reliable output. It emphasizes that flawed or unreliable data will result in flawed financial information and decision-making. Accountants and businesses recognize the significance of maintaining data integrity and employ internal controls and technological advancements to ensure accurate data input. Adhering to this principle is vital for generating trustworthy financial records and enabling sound financial management.
Pricing
Pricing Model
10c per page (5 fields)
THEN 1c for every field.
8c per API call
+ volume discounts
(up to 10 pages per API call)
Per Page / Flat Rate?
Per Page
(charged for every page even if Invoice has 2+ pages)
Flat Rate
(even if Invoice has 2+ pages)
Field Based Pricing
Yes
(1c per field)
No
(all you can eat buffet)
ML Pre-Trained Fields
5
150+
Nanonets employs a covert strategy known as Per Page pricing, which can be considered a hidden tactic. This approach becomes apparent when examining:
Invoices: commonly consist of two pages. Consequently, utilizing Nanonets for bill pay would result in x2 fees to extract data from such use cases.
Receipts: it is customary for expenses to include two receipts: one detailing the itemized charges and another serving as proof of payment. With Nanonets, this practice would once again lead to incurring double expenses for such data extraction.
Additional Services
The following vital services extra value and remove the burdens often associated with having to do this manually.
Document Splitter
(Splits a single large PDF document into individual documents)
No
Yes
Fraud API
(detect manipulated invoices & receipts)
No
Yes
Auto Crop
(removes hands and background noise leaving a clean document)
No
Yes
Auto Rotations
(rotates document to correct position even if scanned on an angle)
No
Yes
Gartner's Magic Quadrant: ❤️ Veryfi
Veryfi has been named by Capterra (a Gartner company) a Top Performer: highest scoring products in both popularity and user ratings which are loved by their users.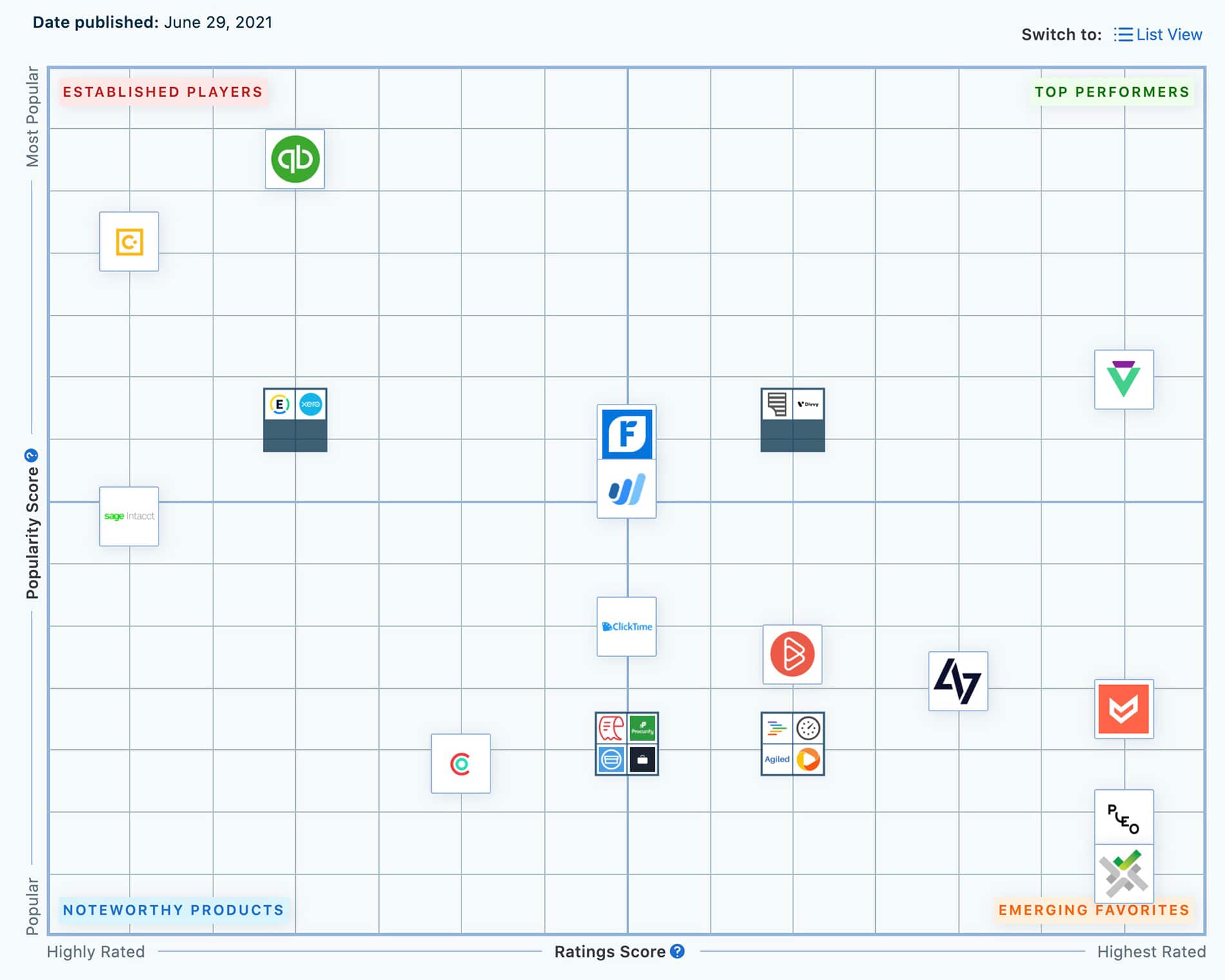 The choice is clear…
If you care about data privacy, speed, and accuracy of your data extraction then Veryfi sounds like a perfect fit for you. You can try the Veryfi data extraction experience below or contact a Veryfi expert.