Realtime receipt collection and data extraction with expense reporting integrated with your QuickBooks Desktop in seconds — Veryfi removes all the complexity so you can take care of business.
Automation
Offline Meets Online
Bridge the offline accounting world with powerful tools built for teams in the field incurring business expenses.
Expense Coding
Expenses coded to your existing preferences in QuickBooks. You have full control how expenses are coded to QuickBooks accounts, customers, jobs, classes, locations, job codes, and more!
Documents Synchronized with Ease
Data is flawlessly synchronized both ways between QuickBooks and Veryfi. Remove manual burden of additional verification and spend more energy on your business.
Get Started
Assuming you already have an account with Veryfi, login to the Veryfi hub (web portal) and from the left hand side menu, head over to Settings > Connected Apps.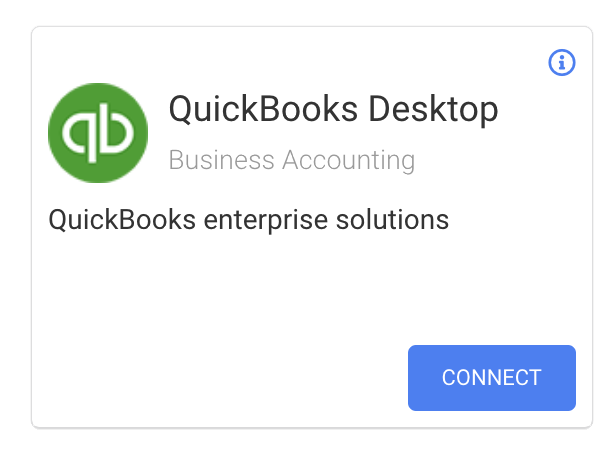 Next, locate the QuickBooks Desktop card (as pictured) and press the blue CONNECT button to start the integration.
The video below goes into more detail inc what to expect visually and how to get your QuickBooks Desktop talking to Veryfi in minutes.
It's easy as 1, 2, 3.
If you run into any issues then reach out to Veryfi Support by pressing the chat button inside Veryfi Hub or email support@veryfi.com
Video
Want these steps in a written format?
Step-by-Step Instructions are also available on how to Sync your QuickBooks Desktop with Veryfi. Just click the button below to go there.
Looking to switch to QuickBooks Online?
Veryfi also works with QuickBooks Online. If you are looking at moving to the cloud Veryfi is also there to support you in this transition and can help you be up and running smoothly in minutes.
Help Us Spread the Word
If you enjoyed this video and the service Veryfi is providing you, then please leave a rating and review on Veryfi app on Intuit's App Marketplace. It helps others get up and running with Veryfi and QuickBooks. Thank you!
Leave a Review
Let others like you know about Veryfi and the QuickBooks integration. Leave a review/rating of Veryfi on QuickBooks's App Store. Thank you!
Need a Veryfi Account?
If you have not used Veryfi before but want to give it a test drive then please head over the signup page and be up and running in minutes. No credit card required to start. Just your email and you get 14 days unlimited use. It's that easy.