Solutions for Developers: OCR Data Extraction API
"The OCR is by far better than the competitors."
"Quite impressed by how quick and accurate the OCR software was!"
"The OCR is the best I've ever seen."
Starter
Monthly Transactions: up to 25,000
$0.08 per Receipt Extracted
$0.16 per Invoice Extracted (inc. Line Items)
Self-serve DIY (no support)
Access to
OCR API
only
5 Second Processing
No credit card required to sign-up. Trial for 14 days free.
Growth
Monthly Transactions: 25,000+ (unlimited)
Blended & Custom Pricing
Line Item Level Extraction
---
Additional API features:
Data Enrichment (vendor detail, line items, ABN lookup)
Logo Detection (identify vendor name from logo)
Document Categorization (for accounting)
Duplicate Detection (double-dip fraud detection)
Detect, Crop & Stitch
Multi-Page Receipts
Auto-Crop
Background from Receipt
Auto-Rotate Receipts
Veryfi is a Leader in Data Extraction minus the human component
Veryfi API extracts a rich set of data from receipts & invoices with unparalleled accuracy surpassing humans. This is a result of years of R&D research and development and a very large machine learning data set that surpasses our competitors.
Both plans also include:
Full OCR Text in each JSON response
Handwritting Transcription

Optional features: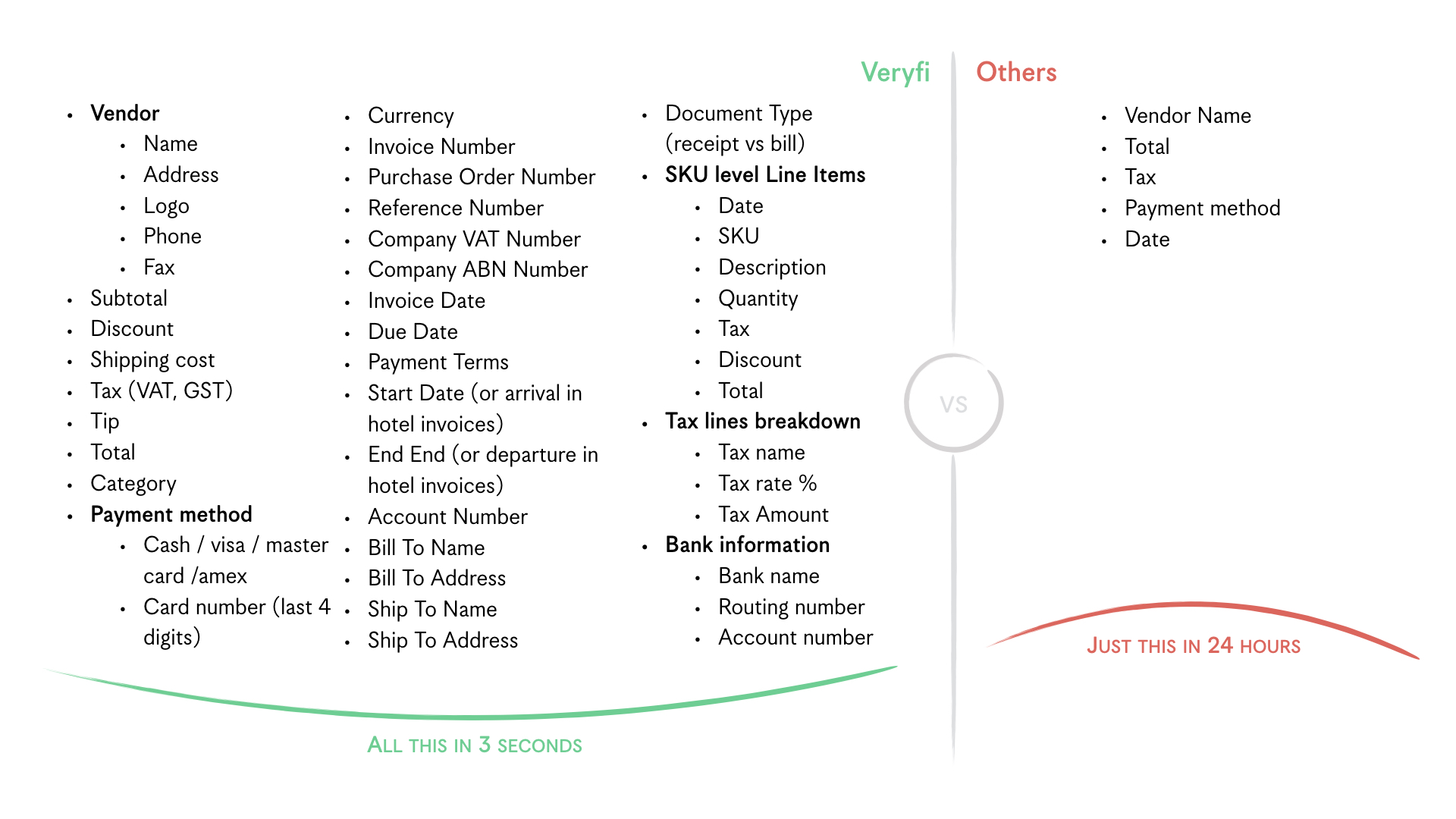 Data-Privacy Focused
Veryfi is 100% machine powered, built in Silicon Valley with data privacy at the core.
Veryfi Shield protects you and your client data.
Leader in Data Extraction
From seconds to extract data to the 98-100% accuracy rates.
Veryfi is the best data extraction tool on the market today. No headaches. No worries.
Common Questions
Which languages do you support?
English. Swedish, Spanish, Portuguese, Dutch, Italian, French, German, Danish, Chinese, Norwegian Bokmal, Russian, Malay, Thai, Vietnamese.
What do we do if my geography isn't supported?
This is most likely due to low volume of data (receipts / invoices) from that geographic region. If you are willing to share data with us we will train our machine model to support your geography.
Is this really 100% machines end-to-end?
Yes. We have not seen humans capable of such feats extracting dozens of fields in seconds. Rule of thumb for identifying human-in-the-loop solutions is the SPEED and QUANTITY of data extracted from each document.
What data-privacy laws do you honor?
CCPA, HIPAA, & ITAR in the US, GDPR in EU and PIPEDA for Canada.
How do you differ from Competitors?
Veryfi OCR API is a fully baked solution. We do not need your data to train the system (unless it's a region outside our support) and will honor any data processing agreement (DPA).
Veryfi OCR API accuracy surpasses our competitors. This is a hard problem to solve.
Veryfi OCR API extracts much more data than our competitors. Look at the chart above.
Veryfi OCR API is more economical than what's being offered by competitors.
What can I build using Veryfi OCR API?
Expense Management product with real-time data extraction from receipts.
Real-time Bill Payment ( Snap2Pay demo)
Give your ERP Superpowers by eliminating data entry for your customers.
Supercharge your Loyalty programs with personalized Coupons (vouchers) based on purchase behavior.
Invoice analytics to optimize company costs in real-time.
Automate your Accounting practice by automating bookkeeping.
Can I resell Veryfi OCR API in my country (outside of US)?
We assess each case on an individual basis. Please reach out to sales@veryfi.com with your proposal including your background in sales and your idea for distribution in that geography.
Can I sell the Veryfi OCR API as an independent agent in the US?
Yes. We offer lucrative commission structures, provide sales material and help you succeed. Please send your resume to sales@veryfi.com
Additional FAQs (Frequently Asked Questions): https://faq.veryfi.com/