Fuels Success in the Cookie-Less World
I've raced lots of different types of motorcycles from the classics to the modern models. Some of the most relevant advances I've seen recently have been the development of electric bike components. Electrically-instrumented innovations such as LCD screens, sensors and warning lights help us understand how the bike is performing, in real-time, during a race. As a result, riders without a solid understanding of the bike can gain insight into performance previously reserved for technicians.
But, what if the manufacturers decided to remove the modern LCD screens and sensors, forcing riders to "feel the bike" when hitting a jump at 30MPH? Not great news, right!!! Well, this is how the upcoming cookie-less world with limited consumer data will look to marketers. But what is a cookie-less world? Basically, it means that all the data regarding the behavior of a person on a website such as scrolling, sections visited, shopping cart data, products clicked on, etc… that marketers use to understand shopper behavior will no longer be available.
Rather than spending the bulk of your budget hiring mechanics to outfit a racing bike, a rider is more likely to rely on technical training manuals and web tutorials to "do it yourself". Collecting zero-party data from your customers will be a similar "do it yourself" challenge: you find it, you assemble it, you make the engine run. And, if you do it well enough, you ride to the top of the podium.
Browsers like Safari and Firefox have already blocked cookies as a way of providing more privacy to its users. Google is in the process of doing the same with Chrome. Still, marketing teams can continue collecting zero-party data through their loyalty campaigns and channels including names, emails, job titles and phone numbers to stay in contact with their consumers. Even more so, marketers can go even deeper into their KYC (Know Your Customer) strategies to understand their buying habits by asking customers to submit receipts in exchange for rewards. Usually these strategies are tied to a win-win exchange with the consumer where the consumer receives a benefit (loyalty points, rewards, discounts, gifts etc.) in exchange for loyalty, shopping and personal information.
With a loyalty campaign that captures receipt data, you learn:
Customer contact information and demographics (from the loyalty campaign).
Purchasing location, date and time.
The list of products and brands purchased and at the prices.
Data on discounts and promotions.
Which competitive products and substitutes were purchased.
Additional products in other categories that were added on and much more…
The number of actionable insights that can be correlated and derived when the data is quickly and accurately extracted from receipts is limitless. Accurate Data fuels Valuable Insights!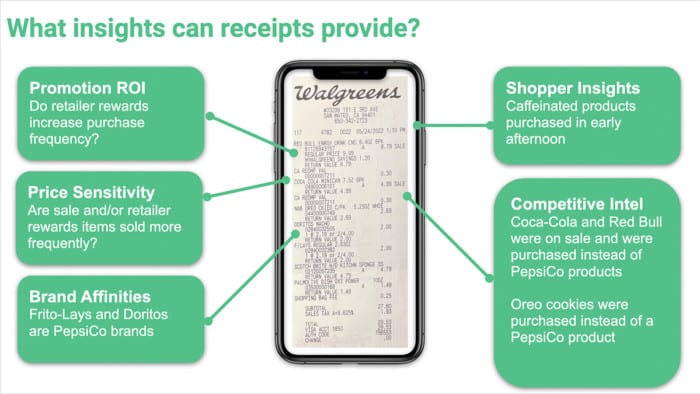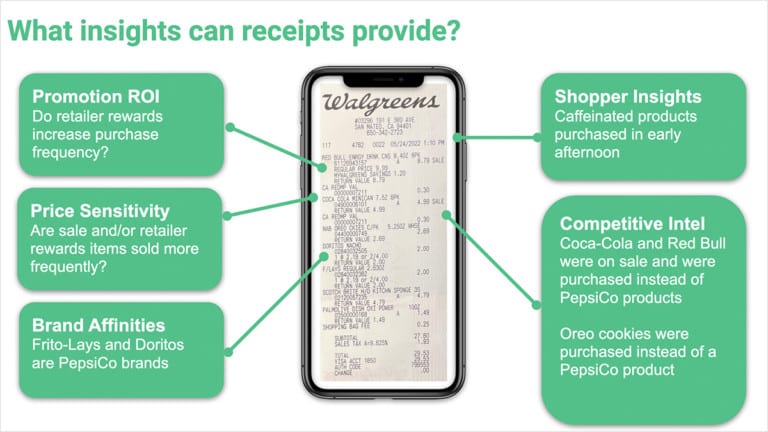 Yes! You've reached the champagne-filled trophy on top of the podium and the key data that led you to victory was in the receipts! In the CPG/FMCG race to customer loyalty, a cookie-less world means trying to win the race without easy access to the information to which riders have become accustomed. In the new world order, zero-party data yields instant information comparable to what a rider receives from digital screens, performance sensors and warning lights. Zero-party data enables marketers to change tactics, mid-race. Again, accurate data fuels actionable insights, elevating performance and yielding best in class results.
To collect zero-party data from receipts, your vehicle must be instrumented. Innovative technologies such as the Veryfi OCR API Platform and Lens Mobile Capture SDK are easily integrated into landing pages, web-apps, mobile apps and more. Instrumenting your marketing technology stack starts with pre-trained, AI-driven OCR to instantly and accurately capture and extract data from receipts.
Marketers need zero-party, cross-basket line item data to reach the top of the podium. Veryfi's pre-trained, AI-driven OCR delivers Day 1 Accuracy™, out of the box, for more than 110 data fields, 39 languages, and 80 currencies, all the way down to the line item. Veryfi accurately extracts the zero-party data required by loyalty marketers to discover new, actionable insights from customer receipts, gaining a better understanding of customer purchasing habits early enough to win the race!
Take Veryfi for a test ride at https://www.veryfi.com/demo and feel free to schedule a demo with me at: https://www.veryfi.com/schedule-complimentary-demo/.