Veryfi for Small Businesses & Startups
Veryfi helps you do more business and less accounting by automating the boring parts of accounting with machines, not humans.
How Veryfi works
Veryfi is an operating system for your small business accounting. An intelligent system-of-record for your business tax receipts, invoices & purchases. Veryfi helps you remove friction from your bookkeeping duties so you can:
(a) meet your tax obligations to the tax office,
(b) maximize your tax deductions and
(c) put an end to the monthly burden of manual data entry, general ledger coding & reconciliation.
How Veryfi works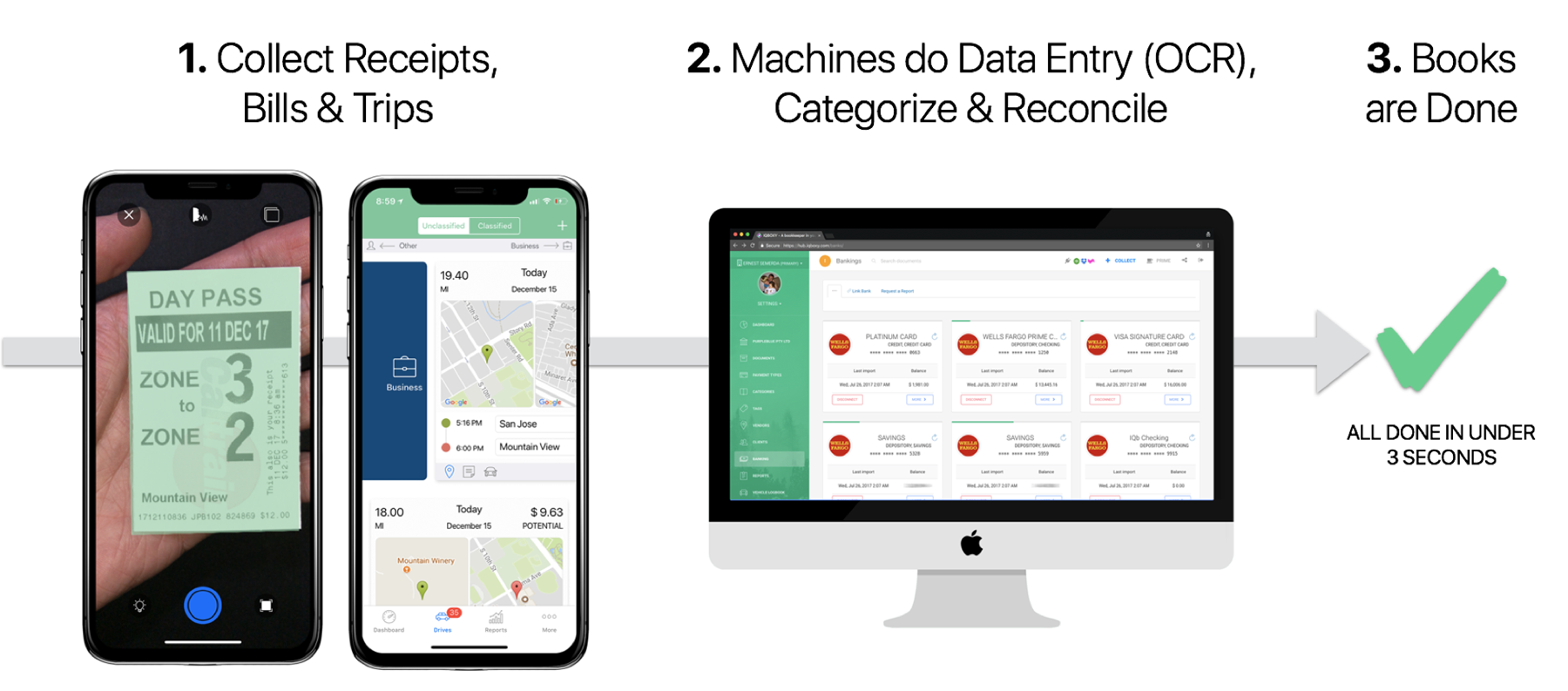 Veryfi My Team
Veryfi My Team is a means to connect your employees and gain real-time visibility of their on-road expenses. Our customers sales teams love this feature since they can (a) file reimbursements on the fly and (b) never miss a receipt or mileage travelled. Learn more.
Start a FREE Trial
Veryfi gives you superhero powers
No waiting — real-time processing

Reliable software — always works!

Your Data is Safe & Secure

Veryfi extracts data from your receipts & bills under 10 seconds guaranteed. Veryfi is machine powered end-to-end. You can truly throw away your paper receipts.
Veryfi is built by Silicon Valley veterans with focus on ease of use, data security, and software reliability. Veryfi allows you to do everything on-the-go and in context, even offline.
Your data & identity is safe with Veryfi. Unlike our competitors, there are no humans looking at your financial and personal data. All data is also encrypted in transit and at rest.

Automate data collection

Reach your clients faster

No bull human support

Distribute powerful mobile tools to your clients through Veryfi Hub & collect all their financial data in real-time turning it into tidy financial reports.
Veryfi Hub empowers you with Communication tools like SMS and Cloud Messaging to improve open rate of all messages from 2% to 98%.
Veryfi comes with Premium Support direct to our office, not outsourced. This means you speak with people that understand your business and the product.
Start a FREE Trial
Veryfi runs on all your devices
Web App

iPhone & Android

iPad Tablet

Apple Watch

Veryfi Web app is your Central Command tying all Veryfi products together on a bigger screen in your web browser.

Veryfi mobile apps are built natively. Not a browser. This means our apps run faster, are secure & provide a rich experience.

Learn more about
iOS app, Android app or iOS vehicle logbook app.

Nothing beats relaxing in bed making sure your practice is running smoothly. Veryfi is available on iPad in native form.

Speak to your watch and have your expenses recorded in real-time across the platform.
Start a FREE Trial
Veryfi mobile app demo
Did you know?
You might not know this but many companies in this space use cheap human labor to transcribe your receipts. This means your Uber home address, transaction history, credit card and bank information is exposed. If you care about your clients then make the right decision. Read more about this from the press below:
Expensify sent images with personal data to Mechanical Turkers, calls it a feature
https://arstechnica.com/information-technology/2017/11/expensify-acknowledges-potential-privacy-problem-by-calling-it-a-feature/
Expensify CEO says its 'automated' service is 'proud' to use humans to process receipts
http://www.businessinsider.com/expensify-is-proud-to-use-humans-in-its-automated-service-2017-11
TL;DR from YCombinator Hacker News: "Expensify's deceptive mechanical turk army may have resulted in me coming within seconds of losing $30k, and almost certainly leaves them exposed to massive liabilities as they wantonly give away personally identifiable information to low-paid contract workers that are not bound to confidentiality."
https://news.ycombinator.com/item?id=15796189
Stay safe. Make the right decision.