Projects based Expense Management for iOS
Go from Chaos to Order with Veryfi's Projects Expense Management app built natively to work flawlessly on your iOS based device (iPhone, iPad and Watch).
Veryfi's Project based Expenses Management app for iOS helps you:
Manage (and budget) your Money In and Money Out like a boss,
Reconcile transactions against your bank feeds, and with a
Snap of a photo have your receipts, bills and invoices digitized, data extracted and populated & categorized in the right accounting fields in seconds. Not hours!
Gain insights into your financial prosperity like never before. Start now! Get the app from the iTunes App Store today.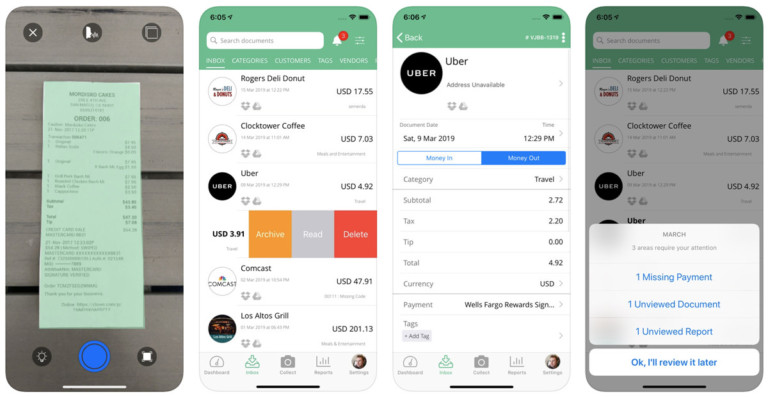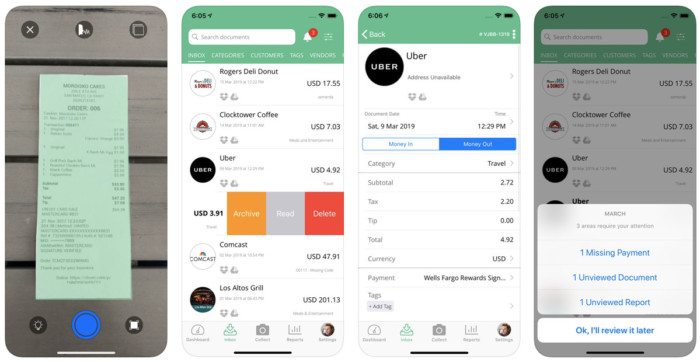 Raving customer reviews
So far- incredible

I downloaded this app during tax season to find a better way in the upcoming year to store and categorize my receipts. I am in the healthcare industry. I don't run an independent company or travel for work often.

So far this app has exceeded all of my expectations. I have tried Expensify, foreceipt, and a generic scanner app, this app blows all of those out of the water. While the camera or edge detection isn't the greatest, they are acceptable. The receipt upload speed is incredible. The other apps in comparison take >10 xs longer. Their algorithm for text recognition is extremely accurate. I can tag receipts into categories with only two clicks. I can sort by my tags and download a printout of every receipt. This app has everything I need and I plan on using it into the future.

Highly highly recommend this app. I wish it was easier to find from the beginning.

Adamtruong, App Store ★★★★★
Effective receipt management

I've been using Veryfi over the 14 day trial period and have decided to try it out for a year. The character and information extraction from a pic of the receipt you snap with your phone worked almost flawlessly for all the times I used it except for one instance, extracting the total, tax and tip in addition to the name and address of the establishment on the receipt. To me, this feature of the app worked much better in practice than some comparable apps I tested. The reporting feature that lets you create CSV files for chosen periods or integrate with various services is also useful. Most valuable is the information security and data protection built into the app.

Ro.Jo, App Store ★★★★★
---
Smarter Project & Expense Management
Eliminate 90% of time wasted chasing records and doing data entry
Precise recording, data-entry automation and reporting of purchase and income activity
Secure file storage for all your business documents like W-2, 1099, BAS etc.
Real-time OCR< of receipts, bills & invoices with smart categorization
Features
Fast OCR: World's Fastest OCR to get your receipts, bills and invoices digitized in seconds
Projects: Manage & Assign Financial Transactions (expenses or income) against each project
Document Management: store W2, 1099, EIN etc inside Veryfi's Secure Vault
Custom Reporting: Custom reports at your request with advance options to customize columns, by customers and projects, team members etc.
Bill Fetch: from any POS or online service directly into Veryfi using your own @veryfi.cc
Profiles: manage multiple business or personal profiles using the 1 account
Accounting: Connects and syncs to QuickBooks (Online & Desktop), Xero & Sage
Backups: Connects with Dropbox & Google Drive for secondary backups
Transparency: Connects with Slack to notify your team using Channels on company expenses
Team Configuration for field intelligence in your pocket
Achieve financial transparency across your organization by adding your team to your Veryfi account. This helps you tap into real-time field intelligence data and insights across time spent and vendor material purchases.
Data-privacy at Veryfi
Veryfi is CCPA, HIPAA, GDPR & ITAR compliant. Data is encrypted at rest and in transit. Veryfi is 100% powered by machines; this means no back office of humans or Wizard of Oz man behind the curtain. More