Straightforward pricing,
next-level bookkeeping automation.
Money

$

13.75




/active user/mo
Easy to use Apps for field teams to track time
Employee work scheduling
Project based clock in/out with geofencing
Run Payroll (with Gusto integration)
Flexible Job Costing Reporting with Advanced customization

No credit card required to sign-up. Trial all Veryfi products for 14 days FREE. View and compare
full features
All Plans Include
Human Customer Support
Veryfi employees who work on Veryfi are also the ones who will support you. This means superior human support by the people that know the product. Nothing is outsourced; You are in great hands!
Multi-Device Support
All products above are available on iOS, Android and Web. This means you have access to information 24×7 on any device you may be using whether on road or in the office.
Data Privacy & Security
Veryfi is SOC2 Type2 Certified. Veryfi Shield protects your Personally identifiable information (PII) by not exposing your data to any Human-in-the-loop (HITL) or offshore extraction teams. Learn more who and what to avoid.
Trusted by 33,000+ companies
How does the 14-day free trial work?
When we say free, we mean free. No credit card, contract, or signature required. At the end of your 14-day trial, simply enter your credit card information and select the products you want to subscribe to, to officially activate your account and continue using Veryfi. We'll even save your data, so you don't have to start over.
more >>
How long does it take for Veryfi to process my documents?
3 seconds. No waiting or processing queues, instant data extraction without templates, vendor identification from logos, trained tax categorization and fort knox security. Veryfi achieves this feat through the use of machine powered backoffice powered by Artificial Intelligence (AI), Optical Character Recognition (OCR) and world's most powerful Machine Models.
Does Veryfi extract line-items from hotel bills etc?
Yes. Watch this video to see how it works:
Line-Items Extraction
. If you want to trial this on your Veryfi Subscription then please reach out to support@veryfi.com and we will activate it for you.
Are there Volume Discounts Available?
Yes. Please reach out to support@veryfi.com
Does Veryfi provide Unlimited Intelligent OCR Processing?
Yes. Veryfi engine is 100% machine powered with real-time auto scaling based on demand. This means it has no limit. However, to filter out system abuse on the unlimited account and promote fair use, the Veryfi AI will set a default cap per new user to 300 documents (receipts, invoices or bills) per month. If you have been a customer of Veryfi for sometime and need this raised, then please reach out to support@veryfi.com and we can go over options that will give you uncapped limits. We believe this will drive a fair use behavior.
Is Newbie Training included?
Yes. We'll not only help you set up your Veryfi account, we'll even train your employees on how to use it.
Schedule your 1:1 call NOW
with the Veryfi Team in our Silicon Valley office. Additional professional services including SLAs and dedicated account managers are also available upon request.
How does Veryfi Pricing Compare to Competitors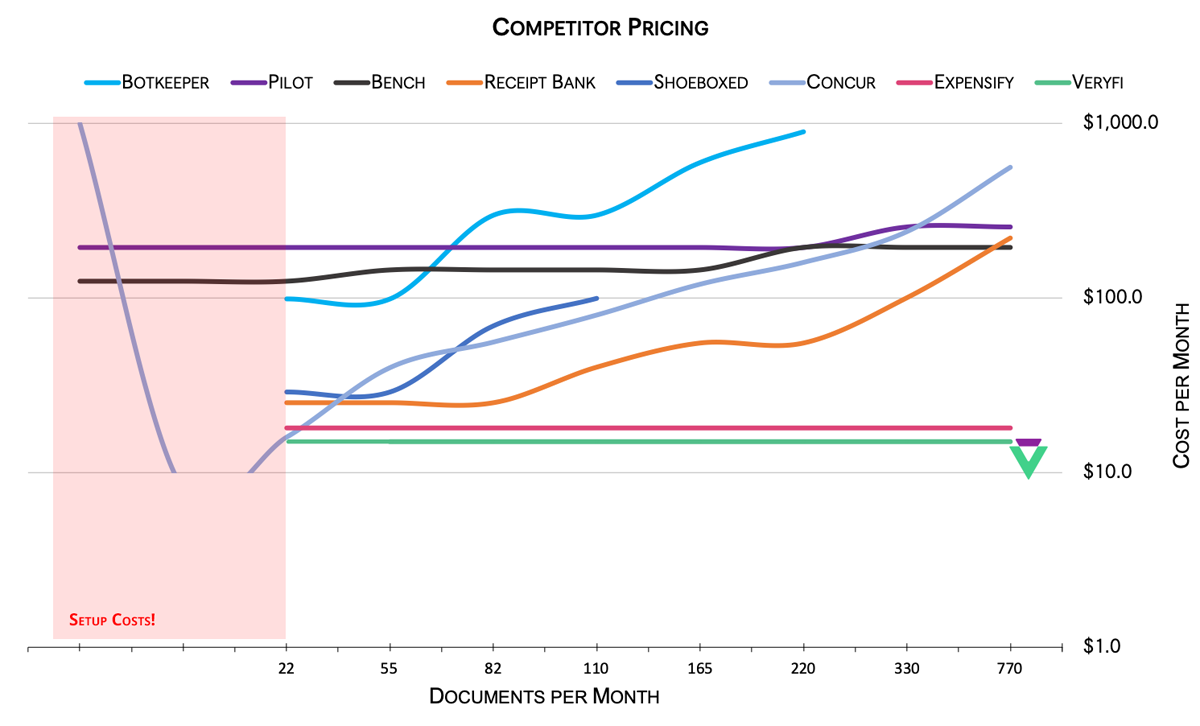 Do you have support for COVID-19 impacted businesses?
Yes.
COVID-19 Discounts
are offered to businesses affected by the pandemic. Please do not abuse this offer since we are not immune to this financial crisis but want to do whatever we can to help.
Is Veryfi Secure?
100% Yes. Veryfi is CCPA, HIPAA and GDPR compliant. Our data extraction is 100% machine powered so only you and your accountant (should you
invite them
) ever see your personally identifiable information (PII) data.
Security at Veryfi
describes more granular measures we put in to protect your data-privacy.
Do you offer Professional Services Support, SLA or Dedicated Account Manager?
Yes. Outside the self-serve model we can offer for your business professional support including an SLA and/or a dedicated account manager. To discuss these options, please contact sales@veryfi.com
Can I get access to your real-time OCR & Categorization API?
Yes. Please contact sales@veryfi.com and we can go over the options. See
Veryfi OCR API Pricing
.